Narrator Daniel Henning invites listeners to fall in love with the characters—including Rambo, a robot vacuum with severe anxiety disorder—in TJ Klune's Pinocchio retelling, IN THE LIVES OF PUPPETS.
"This story will make you laugh, it will make you cry, it will make you feel what it is to be human in all its glory and its pain."—Narrator Daniel Henning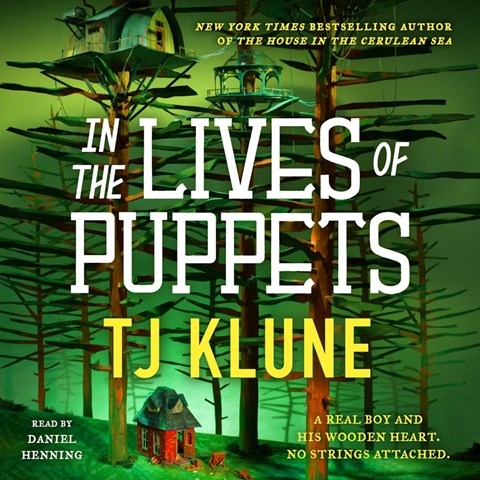 IN THE LIVES OF PUPPETS
by TJ Klune, read by Daniel Henning
Macmillan Audio
AudioFile Earphones Award
Narrator Daniel Henning demonstrates perfect comedic timing and impressive vocal versatility in this queer sci-fi retelling of "Pinocchio." Vic, a human, lives with three androids: Miss Ratched, a nurse; Gio, an inventor whom Vic considers to be his father; and Rambo, a vacuum cleaner. Then, Vic discovers Hap, a powerful but decommissioned android who speaks with a deep-voiced stutter. When Gio is seized, Vic teams up with the unlikely android trio on a cross-country odyssey to rescue him. This laugh-out-loud, emotional audiobook asks listeners to question what it means to be human.
Find more audiobooks narrated by Daniel Henning in his audiography.