Golden Voice narrator Dion Graham gives listeners insights into one of this year's biggest fantasy novels as he introduces us to the first in Marlon James's new trilogy, BLACK LEOPARD, RED WOLF. In this African-inspired epic, the protagonist's powerful sense of smell leads him through dangerous cities and wild lands in pursuit of a child he has been hired to find. Watch the video below.
"It's an incredible piece of work about life, death, loss, love, urges, wants, desires, needs, and the pursuit of happiness."—Narrator Dion Graham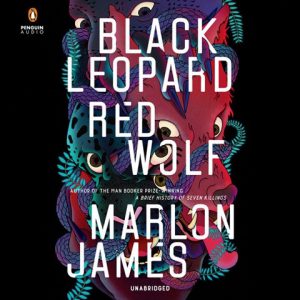 BLACK LEOPARD, RED WOLF
by Marlon James, read by Dion Graham
Penguin Audio
AudioFile Earphones Award
Dion Graham's deep-voiced narration makes listeners feel like they are walking in the shoes of the protagonist. At times, Graham's raspy timbre resembles a growl, which works perfectly for Tracker. Graham's rich character voices and accents, as well as his singing ability, will leave listeners itching for the next volume.
Find more audiobooks from Dion Graham in his audiography.