Dive into the remarkable life of amateur ornithologist Louise de Kiriline Lawrence with Merilyn Simonds's WOMAN, WATCHING. Narrator Elizabeth Wiley shares why this biography will appeal to even those with only a passing interest in birds.
"I love telling stories of remarkable women, and Louise de Kiriline Lawrence certainly was that."—Narrator Elizabeth Wiley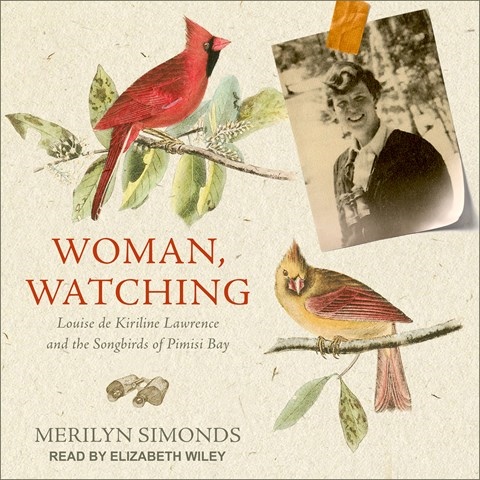 WOMAN, WATCHING: Louise de Kiriline Lawrence and the Songbirds of Pimisi Bay
by Merilyn Simonds, read by Elizabeth Wiley
Tantor Media
AudioFile Earphones Award
Elizabeth Wiley's warm voice and audible enthusiasm welcome listeners to the story of Louise de Kiriline Lawrence, a Swedish aristocrat who became a WWI front-line nurse, then a Canadian wilderness nurse, and finally a pioneering bird-watcher known as Canada's Rachel Carson. Simonds's book is an artful mix that blends her own first-person remembrances with crisp, engaging biography and extensive quotations from de Kiriline Lawrence's delightful letters.
Find more audiobooks narrated by Elizabeth Wiley in her audiography.