If you want to hold onto that summer feeling for a little while longer, you'll want to listen to this love story that unfolds over 28 years. Narrator Erin Bennett shares her thoughts on Elin Hilderbrand's 28 SUMMERS in the video below.
"I always thought beach reads were comforting and scintillating and poppy and intriguing, but I didn't know that they could also break your heart for a few hours of your life, and that's exactly what this book does."—Narrator Erin Bennett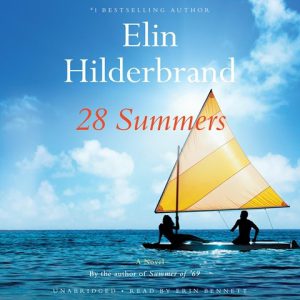 28 SUMMERS
by Elin Hilderbrand, read by Erin Bennett
Hachette Audio
Sometimes a book pulls you in and holds on tight–this is definitely one of those. Narrator Erin Bennett is warm, engaging, and enthusiastic as Mallory Blessing and a host of wide-ranging, multidimensional characters. As the story begins, Mallory is dying and her son, Link, is given instructions to call a strange number belonging to Jake McCloud. Listeners are soon taken on a journey back in time as their 28-year love story unfolds.
Find more audiobooks narrated by Erin Bennett in her audiography.