Narrator Eunice Wong tells AudioFile listeners about Jane Pek's THE VERIFIERS, a detective story, rom-com, and funny but piquant family drama all at once, and its scrappy, whip-smart heroine, Claudia Lin.
"When I was in 5th grade, my favorite book was HARRIET THE SPY . . . Claudia is like if Harriet was Chinese American, a lesbian, and grew up in a working-class, single-parent, very complicated immigrant family in Queens."—Narrator Eunice Wong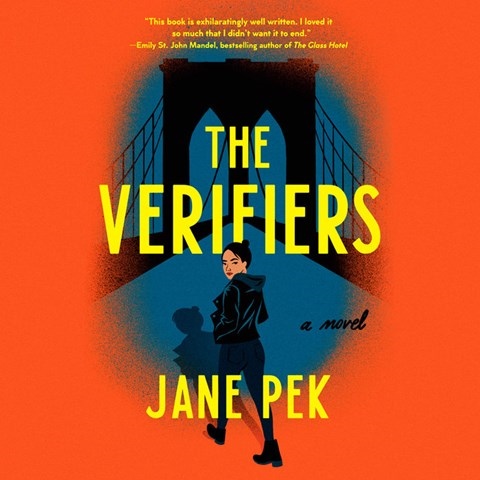 THE VERIFIERS
by Jane Pek, read by Eunice Wong
Random House Audio
AudioFile Earphones Award
Eunice Wong performs this rightly praised debut novel with appropriate intensity and delicate humor; she is perfectly matched to the dry wit of Pek's writing and her utterly charming heroine, Claudia Lin. Unbeknownst to her interfering family, Claudia has quit her boring finance gig and taken a position with a start-up investigating bad behavior in the online matchmaking industry. Soon a slightly mysterious client disappears. Claudia, guided by her close reading of a mystery series featuring a Ming dynasty inspector named Yuan, feels sure the woman was murdered and that she can and should prove it, although no one, including her boss and the client's sister, wants her to. This audiobook is a find and a delight.
Find more audiobooks by Eunice Wong in her audiography.