Narrator Frankie Corzo takes listeners behind the scenes of MEXICAN GOTHIC, Silvia Moreno-Garcia's newest horror audiobook. Set in the 1950s, it's a story that transports listeners into the Mexican countryside, to a manor that quickly goes from unsettling to downright terrifying. Hear more from Frankie in her narrator video below.
"It contains all those classic gothic horror novel elements . . . but is also unapologetically Mexican and Latinx."—Narrator Frankie Corzo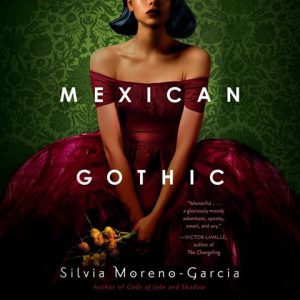 MEXICAN GOTHIC
by Silvia Moreno-Garcia, read by Frankie Corzo
Random House Audio
Frankie Corzo's velvety voice will put listeners under her spell. The story is centered on Noemí Taboada, a clever 22-year-old socialite and anthropology student buzzing between parties in 1950s Mexico City. She is quite put out when her father sends her to the countryside to check on her recently married cousin, Catalina. Listeners share Noemí's developing terror as she unravels the many mysteries of High Place, and the English in-laws who built their fortune with an ill-fated mine. A suspenseful and atmospheric narration makes this an audiobook listeners won't soon forget.
Find more narrator videos and discover more in-the-booth insights from favorite narrators on our blog.
And find more audiobooks narrated by Frankie Corzo in her audiography.
Photo courtesy of the narrator.