Author David Rosenfelt is back with another canine companion on the case, and this time he's launching a new mystery series. Narrator Fred Berman shares his insights into THE K TEAM, Rosenfelt's new spin-off from the Andy Carpenter series. Hear more about this sharp, smart, dog-friendly audiobook thriller in Fred's video.
"It's a first-person narrative, which is my favorite type of book to narrate, because it's the most actable. You can just dig in and live as the character."—Narrator Fred Berman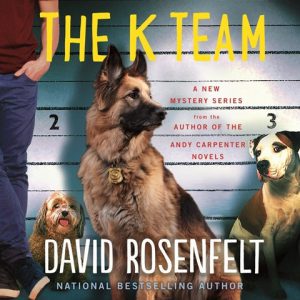 THE K TEAM
by David Rosenfelt, read by Fred Berman
Macmillan Audio
Get to know THE K TEAM, a new team of private investigators. Andy Carpenter's wife Laurie, former detective Corey Douglas, and his trusted canine companion together seek to find out who is about to blackmail a judge. Fred Berman brings the team to life with his well-paced delivery highlighting all the humor, especially the dry one-liners and wisecracks from Corey and Andy. Berman's narration, along with the fun and engaging mystery, results in a thoroughly enjoyable listen.
Find more audiobooks narrated by Fred Berman in his audiography.