Take a trip to Maine with Paul Doiron's Maine warden series. Henry Leyva has been narrating this mystery series for ten years now, and in the latest entry, ONE LAST LIE, warden Mike Bowditch tries to help the father figure in his life as he wends his way through the woods to find closure on an old case. In this video, Henry Leyva shares why he enjoys getting to see the world through Mike Bowditch's eyes.
"The book is a wonderful representation of Paul Doiron at his best, writing about the characters of Maine, the beauty of Maine and its wilderness, and this wonderful character, Mike Bowditch."–Narrator Henry Leyva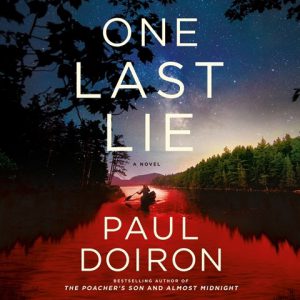 ONE LAST LIE
by Paul Doiron, read by Henry Leyva
Macmillan Audio
There's no question that Henry Leyva's outstanding narration enhances this audiobook. The various nuanced accents he delivers–from New England to French–play a key role in the story. Leyva navigates them all wonderfully, and in doing so, gives personality to the characters. Place can be a protagonist in a print book, and accents, like those in this mystery, can be just as important for an audiobook.
Find more audiobooks narrated by Henry Leyva in his audiography.