Imogen Church has narrated all five of Ruth Ware's thrillers, and she shares with us why she loved Ware's latest, THE TURN OF THE KEY, an unsettling update of Henry James's THE TURN OF THE SCREW. Watch the video, and then settle in for this scary listen.
"The book is terrifying, and I was especially excited to have a chance to terrify you, the listener."—Narrator Imogen Church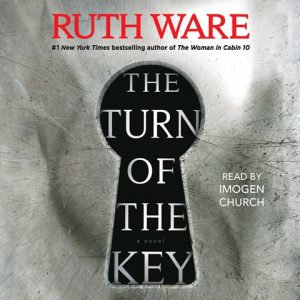 THE TURN OF THE KEY
by Ruth Ware, read by Imogen Church
Simon & Schuster Audio
AudioFile Earphones Award
Nanny Rowan Caine arrives for her first day at what seems like a dream job to find that things are not as perfect as they first seemed. The house's "smart" system malfunctions in the middle of the night, and the children hate her for no apparent reason. Church ably handles the children's voices and the range of accents, including the Scottish housekeeper's. Her increasingly hysterical performance captures Rowan's slow unraveling, upping the creepy factor as the novel's heavily foreshadowed tragedy draws near.
Find more of Imogen Church's audiobooks, including recent Earphones Award winner THE SNAKES, in her audiography.