Are you a Dolly Parton fan? Go beyond her hits "Jolene" and "I Will Always Love You" with Lydia R. Hamessley's UNLIKELY ANGEL: The Songs of Dolly Parton. Narrator Janet Metzger shares how she drew inspiration both from Parton's songs and from her familiarity with the region where Parton grew up.
"I would listen to the songs as I went along in the narration, and I hope that when you listen to this book, you'll take that deep dive as well."—Narrator Janet Metzger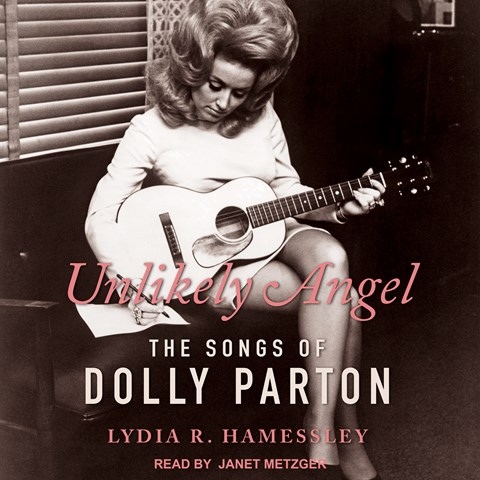 UNLIKELY ANGEL: The Songs of Dolly Parton
by Lydia R. Hamessley, Steve Buckingham [Fore.], read by Janet Metzger
Tantor Media
AudioFile Earphones Award
Dolly Parton jokes about being a prisoner of the "cartoon character" stage persona she herself created, but she is dead serious when it comes to her music. This audiobook reveals the songwriting skill and dedication of one of the nation's most revered country and pop musicians. Janet Metzger's skillful performance, delivered with a delightful Southern drawl when quoting Parton, paints a respectful picture of the first lady of county music.
Find more audiobooks narrated by Janet Metzger in her audiography.