When high schooler Isa joins an intense cooking competition in France, narrator Jennifer Jill Araya shows her skill with accents as she brings the international competitors and supportive family members to life. Jennifer's video below touches on all the reasons she loved narrating SALTY, BITTER, SWEET, Mayra Cuevas's young adult audiobook about a young chef.
"SALTY, BITTER, SWEET is about finding love, figuring out what happiness is, determining what family means, and deciding how far we're willing to go to pursue our dreams."—Narrator Jennifer Jill Araya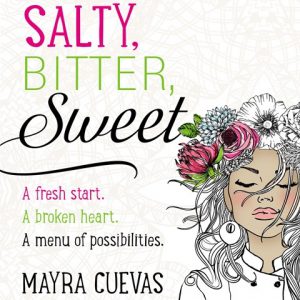 SALTY, BITTER, SWEET
by Mayra Cuevas, read by Jennifer Jill Araya
Blink
Jennifer Jill Araya's heartfelt and determined performance will have listeners rooting for Isa. The cooking competition is ruthless, but Araya keeps her performance grounded as Isa is drawn into a budding romance while also coming to terms with the loss of her Cuban grandmother, whose love and cooking inspired her. Araya delivers a compelling and passionate performance that gives listeners a seat at the table of an aspiring young chef.
For more audiobooks narrated by Jennifer Jill Araya, visit her audiography.