In this video, Joe Jameson shares why he enjoyed narrating Alexis Hall's charming and witty contemporary romance BOYFRIEND MATERIAL and the joys of having good dialogue to work with when you're an actor.
"Alexis is a great writer; he writes characters brilliantly—they're all so nuanced and funny and heartbreaking and very, very real."—Narrator Joe Jameson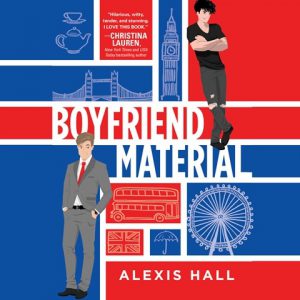 BOYFRIEND MATERIAL
by Alexis Hall, read by Joe Jameson
Dreamscape
Luc, estranged son of an aging rock star and darling of the British tabloids, needs a way to clean up his image for the sake of the charity he works for. Enter Oliver, a buttoned-up London barrister who's willing to pose as Luc's boyfriend. Of course, it doesn't take long for them to develop real feelings for each other. In addition to showing off a whole range of accents from Luc's French mother to his Welsh co-worker, Jameson ably communicates Luc's vulnerable side.
For more audiobooks narrated by Joe Jameson, visit his audiography.