John Lee brings the polish and expressiveness of a gifted narrator—one who performs a perfectly credible Churchill voice—to THE SPLENDID AND THE VILE, Erik Larson's history of Winston Churchill's first year as Prime Minister of Britain and one of AudioFile's 2020 Best Audiobooks in Biography & History. John shares his thoughts on narrating this fascinating intimate history with a focus on family dynamics in his narrator video.
"Even though I did this before we all locked down for COVID . . . it is interesting to be stuck at home with your family and realizing that those dynamics and tensions and joys affect the way that you lead your daily life—in this case, a man whose daily life involved actually trying to defeat the Nazis and save Britain from being overwhelmed."—Narrator John Lee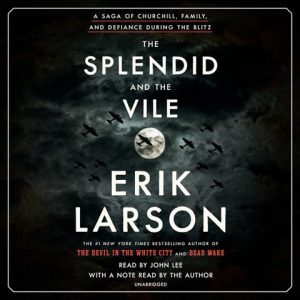 THE SPLENDID AND THE VILE
by Erik Larson, read by John Lee
Random House Audio
AudioFile Earphones Award
We all know the outcome, but listeners will still be on the edge of their seats while listening to John Lee's superb narration of Winston Churchill's first year as Britain's prime minister, 1940-41. With a German invasion expected at any moment, this was the most perilous year in Britain's history, the year of Dunkirk, the Battle of Britain, and the Blitz. As he's done so expertly in bestsellers like IN THE GARDEN OF THE BEASTS, Larsen re-creates the atmosphere of the time, drawing not just on Churchill but also on his family and subordinates, as well as a mosaic of contemporary accounts.
Read more reviews of John Lee's audiobook narrations on AudioFile's website.