Narrator Joniece Abbott-Pratt shares her thoughts on recording Jordan Ifueko's RAYBEARER. Listeners meet Tarisai as a lonely younger girl growing up with a distant mother, and we feel her astonishment when she's brought to the palace in Aristar and meets the prince — and discovers her new friend is the person her mother cursed her to kill. This vibrant and multilayered fantasy audiobook comes to life with Joniece's evocative narration. RAYBEARER earned a spot on AudioFile's list of the 2020 Best Young Adult Audiobooks, making it one that truly deserves to jump to the top of your must-listen list.
"You watch her save the world… and that was really cool, to be inside of a story of a young woman that got to stand in her truth and in her power. You watch a princess mature into a queen."—Narrator Joniece Abbott-Pratt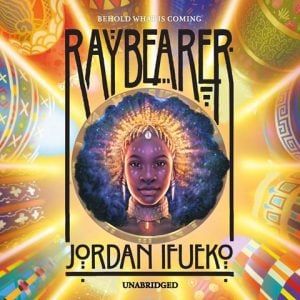 RAYBEARER
by Jordan Ifueko, read by Joniece Abbott-Pratt
Blackstone Audio
AudioFile Earphones Award
Joniece Abbott-Pratt's skilled narration matches the tone of this audiobook perfectly. Tarisai's pursuit of justice and sense of belonging are beautifully interwoven with Ifueko's explorations of power, society, and family. Abbott-Pratt is able to balance the danger and intrigue of the story with the joy of creating a found family among the council members, and her characterizations imbue a fascinating cast with warmth and complexity. Listeners will want to jump into this new series with the first audiobook and will be anxious to discover what happens next.
Find more reviews of Joniece Abbott-Pratt's audiobooks in her audiography.