It's not easy to sum up Cormac McCarthy's literary fiction THE PASSENGER—and our reviewer suggests that it might be best experienced on audio. Narrator MacLeod Andrews, who co-narrated with Julia Whelan in an Earphones Award-winning performance, shares why he was so drawn to this novel and the challenges of giving voice to a character who is continually hiding himself.
"It's an incredible book, a complicated book, but I think there's a lot of richness to be mined for those willing to dive in."—Narrator MacLeod Andrews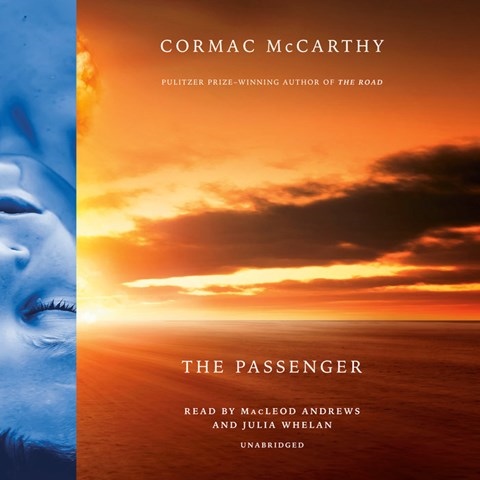 THE PASSENGER
by Cormac McCarthy, read by MacLeod Andrews and Julia Whelan
Random House Audio
AudioFile Earphones Award
MacLeod Andrews and Julia Whelan are gifted mimics and switch off in this braided tale of loss, hopeless love, and social collapse. Both plumb the depths of the wounded brother and sister Bobby and Alicia Western, who are lost souls in this excursion into the dark, soul-depleting demimonde of Cormac McCarthy. Whelan and MacLeod put authentic voices to the dual protagonists' thoughts and conversations that make the characters materialize—those who are human, anyway.
Find more audiobooks narrated by MacLeod Andrews in his audiography.