Are you in the mood for a festive serving of holiday cheer with a side of character development? Mark Sanderlin tells AudioFile listeners about narrating YOU'RE A MEAN ONE, MATTHEW PRINCE, Timothy Janovsky's fun rom-com that might be just what you need to hear this season.
"It's got EVERYTHING—spoiled rich kids sent to live with their grandparents, enemies who have to share bunk beds, found family, some steamy scenes in a storage locker, and a holiday party for the ages."—Narrator Mark Sanderlin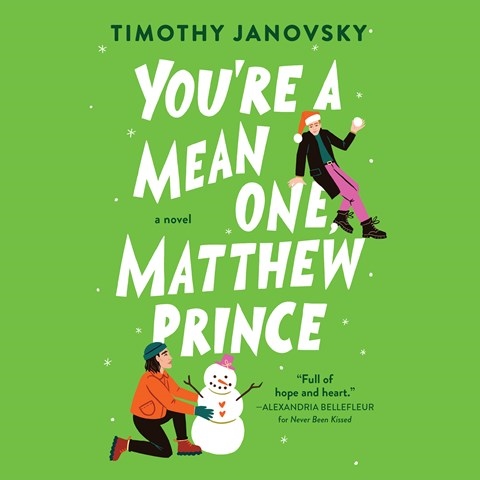 YOU'RE A MEAN ONE, MATTHEW PRINCE
by Timothy Janovsky, read by Mark Sanderlin
Dreamscape Audio
AudioFile Earphones Award
Listeners will become engrossed in this warm performance by Mark Sanderlin. Matthew Prince comes from all kinds of money, but his parents cut him off after he purchases an island. Sanderlin's performance really shines in Matthew's character progression from a snobby, spoiled brat to a humble, exposed man who wants real companionship. It's a story about breaking down walls, and Sanderlin's smooth, charming narration provides depth. A queer holiday romance for a wide audience to devour.
Find more audiobooks narrated by Mark Sanderlin in his audiography.