In the video below, narrator Natalie Naudus shares why she was so riveted by Addie Thorley's NIGHT SPINNER, a retelling of The Hunchback of Notre Dame with a flawed and complex heroine and a magical twist.
"When I got the manuscript for this book, I couldn't put it down—I pulled an all-nighter prepping it."—Narrator Natalie Naudus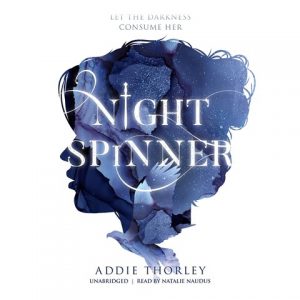 NIGHT SPINNER
by Addie Thorley, read by Natalie Naudus
Blackstone Audio
AudioFile Earphones Award
After losing control of her night-spinning powers and murdering an entire caravan, Enebish, now known as the Destroyer, is banished to a monastery. Maimed, with her powers blocked, and overwhelmed by guilt, Enebish eagerly agrees to commandeer adoptive-sister Ghoa's opportunity to capture a war criminal and to be reinstated as a warrior. Naudus's tone of wonder immerses listeners in this story with remarkable world-building.
Find more of Natalie Naudus's audiobooks in her audiography.