Narrator Nicol Zanzarella shares what she loved about narrating Kate Clayborn's LOVE LETTERING, a delightful contemporary romance set in New York City. Meg is a hand letterer making a name for herself as "The Planner of Park Slope." In the video below, Nicol explains how she got into Meg's character to bring her story to life.
"The way that Meg finds her inspiration for herself throughout this story kind of blew my mind, and as a creative person, really made me want to look at things differently."—Narrator Nicol Zanzarella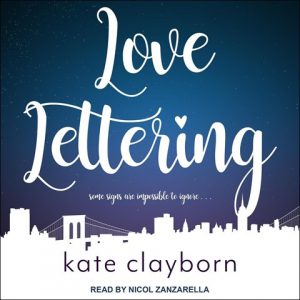 LOVE LETTERING
by Kate Clayborn, read by Nicol Zanzarella
Tantor Media
AudioFile Earphones Award
Nicol Zanzarella's playful and heartfelt delivery highlights Meg's love for her city, and her frustration as she faces a creative block just as she gains new chances to take her hand lettering business to the next level. The absolute last thing Meg needs is a past customer to enter her life, pointing out a secret message she'd encoded into his wedding program—for a wedding that never happened. Zanzarella's masterful performance highlights all the fun and tension of this slice-of-life romance.
Find more of Nicol Zanzarella's audiobooks in her audiography.