Narrator Oliver Wyman embodies everyone's favorite trickster god in LOKI: WHERE MISCHIEF LIES , an exciting origin story for Marvel's Loki of Asgard written by Mackenzi Lee. When one of Loki's constant schemes to show up his brother, Thor, lands them both in hot water, he is banished to Midgard (a.k.a. nineteenth-century London) to investigate a series of magical murders. From his studio "Amazingland," certified Thor fan Oliver tells listeners why they'll love listening to this magical new Loki adventure—especially if they like comic books and Norse mythology.
"We learn some things about Loki in this story that I found surprising."—Narrator Oliver Wyman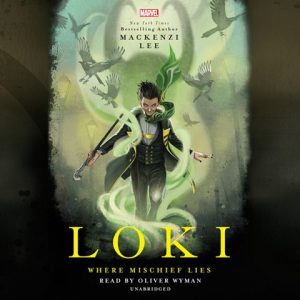 LOKI: WHERE MISCHIEF LIES
by Mackenzi Lee, read by Oliver Wyman
Listening Library
AudioFile Earphones Award
Wyman takes on the central role of Loki with relish, emphasizing his teenaged sarcasm and petulance while subtly exposing the self-doubt underlying them. He excels at the rapid shifts of tone such a changeable character requires. Wyman also creates memorable voices for the supporting characters—from dim but affable Thor and sly sorceress Amora to the plummy accents of England's Sharpe Society members.
Find more audiobooks narrated by Oliver Wyman in his audiography.