Robin Miles gives voice to everything New York in N.K. Jemisin's THE CITY WE BECAME, a fantastical celebration of the city's spirit. Channeling a bit of that spirit in the video below, Robin shares how the audiobook represents New York's resiliency.
"We're a hodgepodge of different cultures, incomes, languages, sensibilities, but we band together, and when we do, we are so much greater than the sum of our parts." — Narrator Robin Miles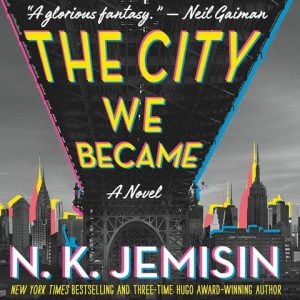 THE CITY WE BECAME
by N.K. Jemisin, read by Robin Miles
Hachette Audio
AudioFile Earphones Award
As the novel opens, New York City is going through a transformation–it's becoming sentient, embodied by six human avatars who represent the city's five boroughs plus New York as a whole. Along with creating distinct voices and accents for the diverse cast of characters, Miles communicates their full range of emotions, from fear to defiance to NYC pride; select sound effects add even more atmosphere. Miles goes all-in with her energizing performance, making listening a joy.
Find more audiobooks from Robin Miles in her audiography.
Robin Miles photo by Ty Freiberg.