Narrator Ron Butler tells listeners about Kacen Callender's moving children's audiobook KING AND THE DRAGONFLIES. Kingston is a Black tween living in Louisiana and coping with his older brother's sudden death. Ron's exemplary delivery is full of emotion that mirrors the novel's bittersweet but hopeful tone. KING AND THE DRAGONFLIES won the 2020 National Book Award for Young People's Literature, a well deserved honor. Watch the video for Ron Butler's insights into the audiobook.
"Listen. This story will break your heart, but I promise you, it will put it back together in the most wonderful way."—Narrator Ron Butler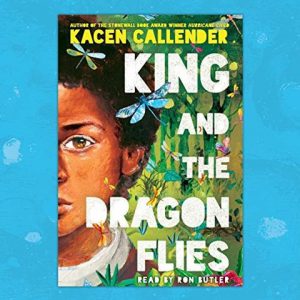 KING AND THE DRAGONFLIES
By Kacen Callender, read by Ron Butler
Scholastic Audiobooks
AudioFile Earphones Award
Ron Butler lends expertise, elegance, and an unerring expressiveness to his heartbreakingly beautiful performance. When King's ex-best friend, Sandy Sanders, goes missing and King finds him hiding in his backyard, he is forced to confront questions about himself and his grief. The story explores serious topics including racism, homophobia, child abuse, death, and sexuality. This spectacular and touching performance is a must-listen for children, teens, and adults.
For more audiobooks narrated by Ron Butler, visit his audiography.