Narrator Rosalyn Landor joined host Jo Reed to talk Julia Quinn's Bridgerton, Alison Weir's Six Tudor Queens, and how she approaches historical romance and historical fiction audiobooks. Rosalyn is a prolific and accomplished narrator with a rich audiography, and she talks about "catching the flavor" of each story to find the right narrative voice. Listen to the full conversation below.
Partial transcript:
Jo Reed: When you first get a book, what is your process? How do you prepare for narrating?
Rosalyn Landor: You have to read the book cover to cover because if you don't, you can get caught out. And I've known people in the past who started narrating a book only to find that halfway through the leading man was not Australian—but American, or vice versa. So that's something I think most narrators will say is that they do check through the entire text before they want to start prepping and narrating it. And I think what happens is characters speak. If you're doing a fiction book, the characters speak to you. They give themselves a voice. They are so beautifully delineated most of the time by an author that you can see, you can feel. In the case of a lot of the romantic fiction books that I'm offered to do, there will be very specific descriptions of the characters, so it's not hard to find voices for them.
JR: Do you have a particular affinity for historical romance?
RL: Well, I'm very lucky, because living in England, we have so many places of historic interest across the country. For example, when I was narrating the Alison Weir six wives of Henry VIII, I have actually been to quite a few of the locations that she's used simply because I love going to see palaces and these very beautiful houses that have been built across hundreds of years. And they have that sense of history to them. And you can feel that when you start a book based in a certain period. I just have to go to my time spent in Bath or in Wiltshire, and all of these houses come alive for me. And the authors have written them beautifully. So very often I just have to walk onto a page, and they're there for me to use.
JR: I was going to say, particularly in historical fiction, whether it's romance or not, the setting really is another character.
RL: Oh yes, absolutely.
JR: And it would seem that in historical romance, the tone is so important. On one hand, we know it's going to end well. That's part of the joy of reading romance, or listening to it. But at the same time, our hero and heroine, they don't know that.
RL: I love the fact that there are so many different ways that the characters interact with each other. And when there are scenes where there's a very fast exchange, it's very, very easy to play a scene out because that's how we speak naturally. Over in England, I think, we tend to speak a lot more quickly than you in America do. So those exchanges can be very snappy and very quick, and I love doing those. They're great fun. Particularly, obviously, Julia Quinn, who, as you know, is responsible for the wonderful Bridgerton series. There's a lot of fun to be had with her dialogue.
JR: I think the thing that I love about Julia Quinn is her characters are just so likable.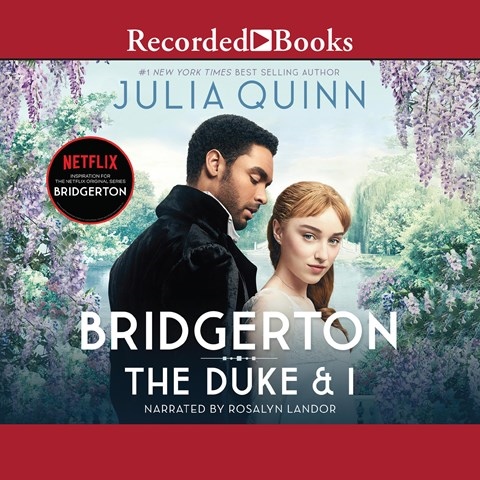 RL: Yes, aren't they? Absolutely, yes, yes.
JR: Yes. And her women are very smart.
RL: I love that, more and more and more, as I'm getting involved with other authors, this is becoming more and more the way that our authors are writing romantic fiction. They give women a very positive aspect, even the ones that are a little shy, and they bloom as the book goes on. As you say, they're written in a very positive way. It's charming, I think is the word. It's very charming.
JR: I would agree. I'm wondering what's needed to narrate historical romance, as opposed to Alison Weir's historical fiction, for example.
RL: I think there's a lot of affection between characters. This is something that you've already brought up. The interaction between, for example, the female characters, sisters. We're not talking about people who are in a true rewritten aspect of history, where people were very much more careful how they interacted, and even in Alison Weir's books, it's a very correct interaction, and her language is very specific, not necessarily period diction, but definitely something where you can tell it's a very proscribed way of talking to each other. There was a dance that people did in those days with language that you don't have to have for romantic fiction because obviously it's not real, and we're not having real characters speaking to each other, a lot of which can be taken from transcriptions of the period. But these are made up, and these are able to play with much less intensity for that reason.
JR: What about the narrative voice itself, which is just as important as the characters? How do you come to that with each book? For example, your narration of Alison Weir's wives of Henry VIII is quite different from the narrative voice of the Bridgertons.
RL: That's a very interesting question, and I cannot answer it because all I know is I get swept into the story, and the narrative, the text versus the dialogue, seems to lend itself back and forth. You kind of catch the flavor, and you go into the text from a dialogue perspective, and it just carries you through. I have variously worked with, for example, Lisa Kleypas, obviously Julia, Julia MacLean, various other writers who are writing in a similar timeframe, time period of history, and all very differently. And they have that similarity, which is that you can be swept into a period which they somehow bring alive, even in the text, with descriptions of gardens or the beautiful rooms, you know, the furniture, the drapes, the bedding, whatever. And it just pulls you on into the narrative, and then you're back into the scene with the dialogue. It just works seamlessly, and I don't quite understand. That's why they do it and I can't. I just read it for them. I can't do what they do, but they do it brilliantly.
--
For a full list of Rosalyn Landor's audiobook reviews, visit her audiography page.
Photo of Rosalyn Landor by Arielle Rudman