Narrator Will Damron recounts the gruesome true story of the Greely Polar expedition in LABYRINTH OF ICE by Buddy Levy. Will's narration captures the essence of life on a ship buffeted by icebergs, the brutal cold of the arctic, the awe of discovery, and the price some will pay for fame. Watch Will's video below to hear more about this disastrous Arctic adventure.
"The things these men went through on this mission were the stuff of nightmares."—Narrator Will Damron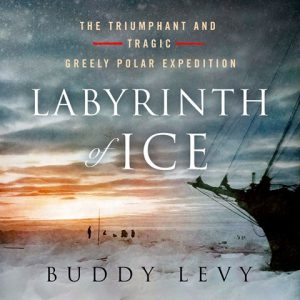 LABYRINTH OF ICE: The Triumphant and Tragic Greely Polar Expedition
by Buddy Levy, read by Will Damron
Macmillan Audio
The Greely Polar Expedition was a late-nineteenth-century attempt to reach the North Pole. Over the course of two years, the crew conducted scientific research, went on rescue missions, and barely survived. Damron is a narrator at the top of his game as he tells  the true story of adventure, disaster, discovery, cannibalism, and more. He takes Levy's fascinating account and makes it a harrowing adventure story, and a great listen.
Find more of Will Damron's audiobooks by browsing his audiography.