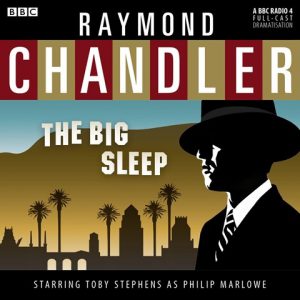 Yes, this blog is being posted the week before Christmas, but I'm going to let my fellow bloggers call out the holiday, as Caitlin Augusta does in her Countdown to the Holidays post. I am not being a grinch, it's just that I'm taking a break from the gray skies and holiday-decked-out New York City and flying off to sunny Los Angeles. Come join me through audiobooks.
Perhaps because Los Angeles is associated with Hollywood, glitter, glamour, big dreams, celebrities, and sun, it's also known for the dark side that seethes just beneath the surface—the perfect setting for noir classics as well as some of the top mystery/thriller series.
Let's start with the original hardboiled detective novels—Raymond Chandler's Phillip Marlowe series. Sadly, the audio versions narrated by actor Elliot Gould, including THE BIG SLEEP, are out of print and might be hard to find (check your library!), but listeners can enjoy the BBC's Full Cast Radio Drama. Audiobooks are well-suited for Chandler's quick-paced writing and snappy dialogue. When asked if Marlowe was his alter ego, Chandler responded: "Yes, I'm exactly like the characters in my books. I do a great deal of research, especially in the apartments of tall blondes."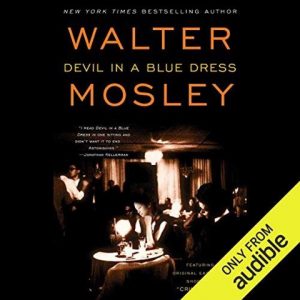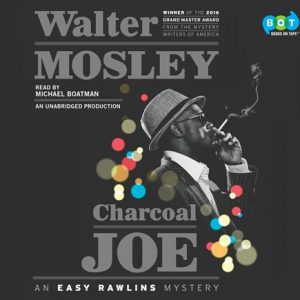 It is not too far a leap to DEVIL IN A BLUE DRESS by Walter Mosley, where we are introduced to Ezekiel (Easy) Rawlins, who in 1948 Los Angeles backs his way into becoming the private detective that we have come to know in the subsequent 13 books. In the latest, CHARCOAL JOE, Earphones Award winner Michael Boatman returns to voice Easy as he works a case in 1960s L.A.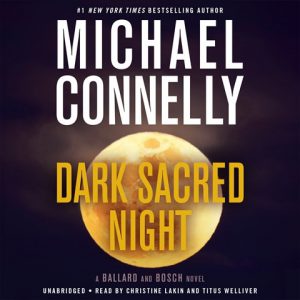 Representing current-day L.A., we have Michael Connelly's Harry Bosch series. Through Harry Bosch, we enjoy the spectacular view of sparkling Los Angeles at night from Harry's cantilevered deck that projects out over a hill, making us aware of the shaky ground we are on in this city. Bosch has been voiced by a number of award-winning narrators over the course of the series, including Dick Hill, Len Cariou, and, for the last five books, including DARK AND SACRED NIGHT (an AudioFile 2018 Best Audiobook in Mystery & Suspense), actor Titus Welliver, who plays Bosch in the Amazon Prime series. There are even Harry Bosch tours of L.A. I came across an article in The Telegraph, where the journalist got a tour of Bosch's L.A. with Michael Connelly himself. How amazing is that?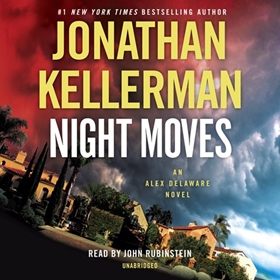 The Kellermans—Faye, Jonathan, and Jesse—all provide us with scenes, characters, and insights into modern life in LA. The latest (Book 33) in Jonathan Kellerman's Alex Delaware series, NIGHT MOVES, narrated by Earphones Award winner John Rubinstein, takes us to residential L.A. and into the hills beyond. We get to tag along with psychologist Alex Delaware and his police buddy, Milo Sturgis, as they drive (a lot of driving; this is L.A.), eat (a lot of eating on Milo's part), and talk out possible theories as they solve complex crimes.
I know I will be seeing all of these characters as I walk through Pershing Square in downtown L.A. and looking at the Christmas decorations in the bright sun . . . that just seems slightly out of joint to this New Yorker. To borrow the lyric from Irving Berlin's White Christmas:
The sun is shining, the grass is green
The orange and palm trees sway
There's never been such a day
In Beverly Hills, L.A.
But it's December the twenty-fourth
And I am longing to be up North