Narrator Mark Deakins takes AudioFile listeners behind the scenes of David Grann's THE OLD MAN AND THE GUN, a collection of three of Grann's New Yorker articles. The title story, about a gentleman bank robber and prison escape artist who is still plying his craft in his 70s, inspired a movie of the same name, out now and starring Robert Redford and Sissy Spacek.
"I've had the pleasure of narrating Mr. Grann's work on a number of occasions, and I have always found the stories that he recounts to be well worth the time reading or listening."—Narrator Mark Deakins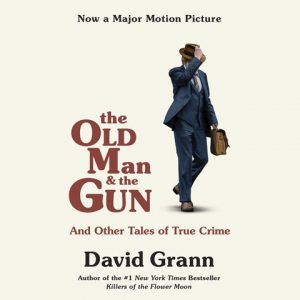 THE OLD MAN AND THE GUN: And Other Tales of True Crime
by David Grann, read by Mark Deakins
Random House Audio
These three stories of deeply flawed but fascinating criminals will move listeners to consider the lines between truth, belief, and imagination. Mark Deakins is a great match for Grann's investigative writing style. He conveys these real-life stories with journalistic credibility. Ellen Quint wrote a bit more about this title as well as other true crime audiobooks in her September Solve post.
Mark also narrated Grann's THE LOST CITY OF Z: A Tale of Deadly Obsession in the Amazon (also turned into a movie) and THE DEVIL AND SHERLOCK HOLMES: Tales of Murder, Madness, and Obsession. And he's narrated a wide range of both fiction and nonfiction audiobooks. Check out his full audiography.