Novelist Colm Tóibín, an ebullient, broad-shouldered Irishman with piercing dark eyes, has given persuasive voice to many women, including Nora, a forty-year-old English widow; Eilis, a young Irish immigrant to America; and Clytemnestra and Electra of Greek myth. He also created an unforgettable portrait of the Mother of God in THE TESTAMENT OF MARY. And in THE MASTER, he made novelist Henry James come newly alive.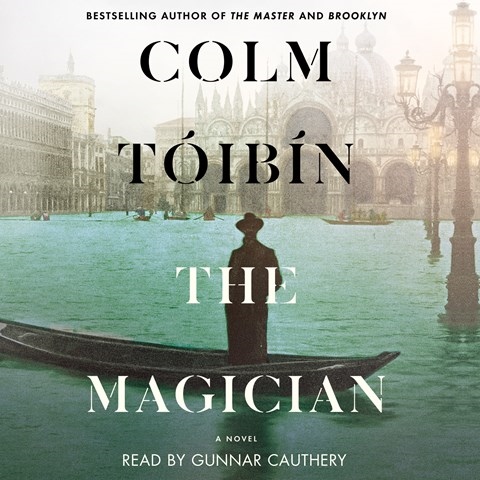 Now Tóibín has turned his attention to Thomas Mann, author of such novels as BUDDENBROOKS, DEATH IN VENICE, and THE MAGIC MOUNTAIN. Eloquently performed by English actor Gunnar Cauthery, THE MAGICIAN is a deeply researched fictionalization of Mann's life. Tóibín read several comprehensive biographies in preparation, as well as Mann's novels, novellas, short stories, plays, and nonfiction. He also combed through Mann's personal diaries, which celebrated his happy marriage and six children and revealed his lifelong attraction to men.
In THE MAGICIAN, Tóibín gives Mann both unrequited yearning and a few homosexual encounters. Tóibín, who is gay, grew up in "a provincial place where your sexuality was not just a secret but unmentionable." Mann's closeted sexuality and the complexity of the human heart are attributes Tóibín understands at a profound level.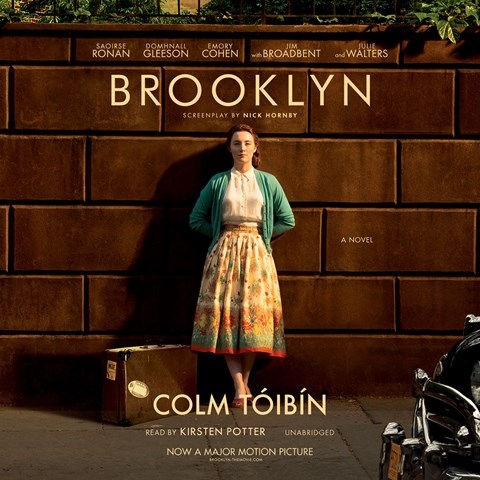 Typical of Tóibín's subtle work, which New Yorker writer D.T. Max describes as "shorn of metaphor and explanation," the story is not over-dramatized. It is told as much in the characters' silences and suggested inner lives as in their conversation. Tóibín gives listeners a chance to eavesdrop and observe without interpreting the action for us. He attributes his approach to his Irish Catholic childhood, in which, as he wrote in his novel BROOKLYN, "They could do everything except say out loud what it was they were thinking."
The transmutation needed to lift actual people, such as Mann, and conjured characters, including Nora Webster, to palpable life is one reason that Tóibín has won such literary prizes as the Costa Novel Award and Whitbread First Novel Award, and appeared three times on the Booker Prize shortlist. In addition to writing novels, plays, poems, articles, and essays, the prolific Irishman is a literature professor at Columbia University and the chancellor of the University of Liverpool. Besides all that, he and his literary agent own a small publishing imprint based in Dublin.
While Tóibín excels at the difficult and solitary work of a writer, he craves company. A gregarious man, he loves to socialize with students, colleagues, and people he meets at dinner parties or in the pub. It's diverting and fun after a day with words. And, as he has said, partying is filled with possibility, for who knows which overheard anecdote might become a new story idea?
For more rewarding listening, here are highlights from Tóibín's audiography –
NEW WAYS TO KILL YOUR MOTHER: WRITERS AND THEIR FAMILIES
After an opening essay about Jane Austen, read by the author, narrator Gerard Doyle ably reads this intriguing examination of writers and their families, from Yeats to Tennessee Williams. Thomas Mann makes an appearance.
Narrators Juliet Stevenson, Charlie Anson, and Pippa Nixon vibrate with controlled passion in Tóibín's take on the revenge of Clytemnestra, Orestes, and Electra on King Agamemnon.
Narrator Fiona Shaw won an Earphones Award for her sublime performance of a young Irish widow navigating tentatively toward a new life.
Actor Meryl Streep's Earphones Award-winning performance of the first-person testament of Mary, mother of Jesus, is fearsome and unforgettable.
Kirsten Potter's velvety voice enhances this novel about an Irish immigrant to America in the 1930s, who must decide between her old and new lives.
Gerard Doyle won an Earphones Award for his empathetic rendition of these short stories about the emotional complexity, joy, and heartbreak of everyday life.
Ralph Cosham's Earphones Award-winning performance of this novel about author Henry James is so vivid that listening feels like watching a fully-staged drama.
Colm Tóibín photo by Reynaldo Rivera.