SYNC Audiobooks for Teens returns for a 12th season of free audiobook downloads to keep for individuals ages 13 and up! AudioFile Magazine has hosted this program all these years to encourage the development of new listeners during middle- and high-school summer vacation periods. Listening to audiobooks has been demonstrated to increase literacy capacity in highly skilled bookworms as well as those who don't identify themselves as readers, to provide opportunities to deepen capacity for empathy, and to offer exposure to a wide variety of genres, voices, and expressive styles.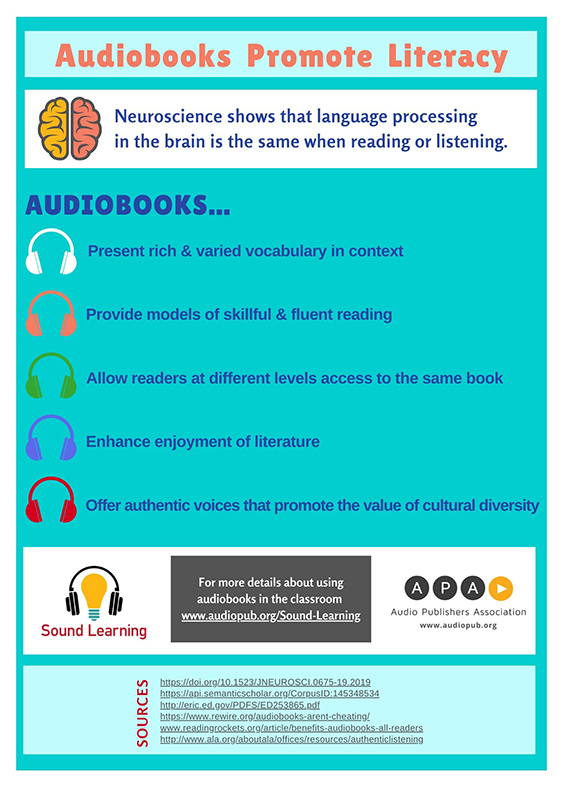 You can read more about listening research at Sound Learning, the site for the Audio Publishers Association's literacy initiative. SYNC also gives teens the experience of building and curating their own personal collection of audiobooks, another developmental attribute of becoming lifelong readers and learners.
This year, the SYNC season runs for 14 weeks, from April 29 through August 4, for a total of 28 titles, all available to participants worldwide. We hope you will join us in spreading the word about this teen-friendly program that also has been popular as an adjunct for classroom book discussions, teen book clubs, and other seasonal programming.
SYNC titles will be delivered via OverDrive's Sora app, compatible with all types of computers, tablets, and smartphones. Once downloaded during each title's single week of availability, the audiobook remains the participant's, with no due date. A few subtle changes in SYNC's website have been made; however, if you are a longtime SYNC fan, these changes will seem more cosmetic than practical compared with your past experience.
SYNC's website is currently up and running, providing teachers, library staff, group leaders, and anyone else who might find them useful with access to a toolkit that includes a suite of posters, as well as Frequently Asked Questions with guiding answers. The full list of titles, publishers, and date ranges for each pair of free titles all can be found on the site. Please encourage others who work with the targeted audience of teens of middle and high school ages to review basic procedural steps before the season opens.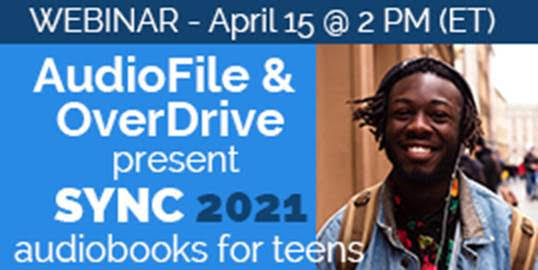 In addition to information on the SYNC site, OverDrive will host an introductory one-hour webinar on April 15, at 2 PM EDT. You can register for that webinar here and know that the archived recording of it will remain available through the SYNC season.
This year's SYNC title collection includes dramas, autobiographies, fantasies, thrillers, romances, and much more. Participants will be offered many #OwnVoices audiobooks, a classic tale from China, an artist's tour of a career in professional art, some often-requested humor, and collections of short stories. Performance styles include single narration, author narration, full-cast performances, and dual performer deliveries. Some of the audiobooks have a run time under two hours, of particular appeal to brand-new listeners, and others run as long as 12 hours and more.
In addition to the site-based toolkit, we have also built a Pinterest board that provides photos of most of the talent involved in each and every title. We invite you to share these assets in promoting the program as well. We also encourage you to interact with us on Twitter, Instagram, and Facebook, sharing your own local SYNC news and local programming promotions with the greater SYNC community. Please include the SYNC program's hashtag of #audiobooksync2021 so we can find your messages about how you are including SYNC locally and your teen listeners' responses to what they are hearing!
Launch day is this month! We're excited and hoping to see you at the starting line!