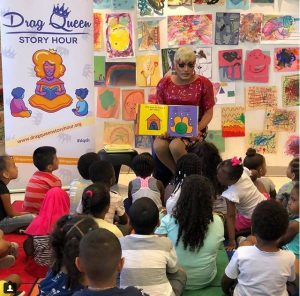 The final week of September brings an annual call from a coalition of intellectual freedom advocates, including the American Library Association and the American Society of Journalists and Authors, to note the fragility of readers' rights in many communities in the United States. Banned Books Week celebrates resistance through insistence on free expression as fundamental to a free society. In addition to the annual list of challenges made to specific titles around the country, this year's celebration calls attention to an increasingly popular and much challenged children's program held in both public libraries and bookstores: Drag Queen Story Hour. Intended to provide both entertainment—as drag performances do—and exposure to diversity, children's departments that host Drag Queen Story Hour programs report their popularity (while also providing support for storyteller training and smooth program operation). Naysayers, on the other hand, bypass the potential for intellectual freedom and the experiences of inclusiveness without, typically, learning about what, why, and how children respond to either drag queens or story times in a group setting.
Audiobooks for both youth and adults offer ways for those who are curious to get a handle on what exactly drag queen entertainment involves. Needless to say, these audiobooks also offer anyone familiar with gender nonconformity and unthreatened by it some great listening—they're both fun and insightful.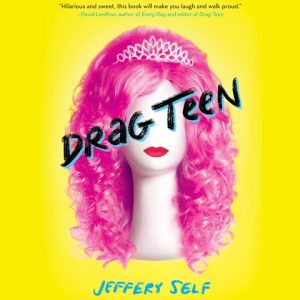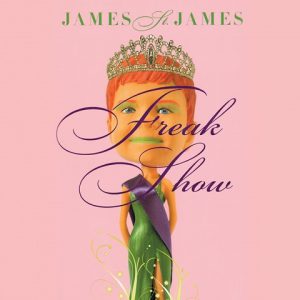 Jeffrey Self reads his own spot-on young adult novel, DRAG TEEN, with a range of authentic emotions and well-defined Southern voices for the boys, men, and women in a story about getting to the drag competition that promises our leading boy/man/queen an opportunity for a college scholarship.
FREAK SHOW, by performance artist James St. James and performed by a full cast that includes Ben Estes, Suzanne Toren, Tracey Petrillo, and Caitlin Kelly, is another young adult novel that portrays the ups and downs of drag in a young person's expressive retinue. A postscript is read by St. James himself, reminding listeners of the true lived experiences and real people behind the fiction here.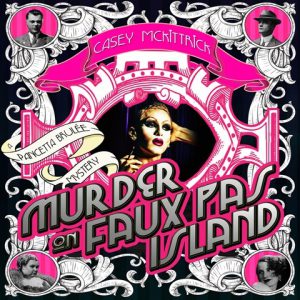 Adults with a taste for camp and satire can turn to Casey McKittrick's MURDER ON FAUX PAS ISLAND, which narrator Kevin Lusignolo performs in all its confectionary splendor. This send-up of a 1930s locked room mystery features what would have then been called a female impersonator—drag queen Pancetta—who is also caterer and amateur detective when a double-groom-no-bride wedding turns into a murder scene. Lusignolo provides a host of voices that help listeners keep the cast . . . well, straight.
While the concept of drag (kings as well as queens) has political aspects as well as the fun on display in these audiobooks, Drag Queen Story Hours emphasize storytelling and sparkly, bewigged fun. Just as clowns can communicate serious and critical messaging, their appearance at children's functions sticks with the lighthearted. If you want to learn more about Drag Queen Story Hours and where to find them and why and how they affect kids and families positively, and celebrate the American right to free expression, you can visit this helpful site.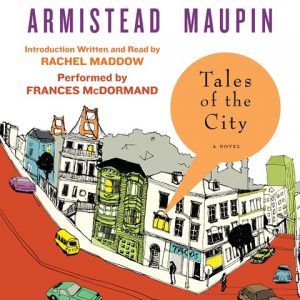 And if you're curious about how Armistead Maupin first wrote about drag queens upon discovering them when he arrived in San Francisco 44 years ago, take a look at this newspaper column he wrote then, and follow that up that with his TALES OF THE CITY and its subsequent volumes, read by a delightful assortment of narrators including the author, Frances McDormand, Rachel Maddow, Kate Mulgrew, Cynthia Nixon, and Alan Cummings.