It's been eight years since Kate Atkinson's last audiobook featuring her semiretired, terminally lonely British P.I. Jackson Brodie. Actor Jason Isaacs, who starred in the BBC series "Case Histories," based on Atkinson's books, narrates the newest Brodie mystery, BIG SKY. In this video, author and narrator catch up in the recording studio and chat about bringing Jackson Brodie and the rest of the cast of characters to life.
"The job is to be a conduit for the writing, to trigger people's imaginations . . . it's about having a gentle touch and allowing the writing to flow through you."—Narrator Jason Isaacs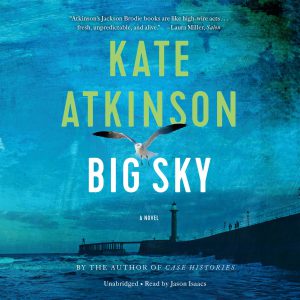 BIG SKY: Jackson Brodie, Book 5
by Kate Atkinson, read by Jason Isaacs
Hachette Audio
Listeners join P.I. Jackson Brodie as what should be a simple investigation grows into something much more sinister. Narrator Jason Isaacs is the perfect match for this multifaceted story. His confident and polished delivery allows both the wit in the writing and the tension of the plot to come together. While the story explores some of the horrors of human trafficking and child abuse, there is also a strong streak of humor that Isaacs reinforces, lightening an otherwise dark work.
Explore more audiobooks in the Jackson Brodie series and other titles by Kate Atkinson in her audiography.