Narrator James Langton takes AudioFile listeners Behind the Mic in his video to share some of the challenges and ambiguity he discovered in the recording of THE JUDGE HUNTER by humorist Christopher Buckley.
"A lot of fun, many fun characters, a rollicking good story that keeps the pages turning and keeps you listening."—Narrator James Langton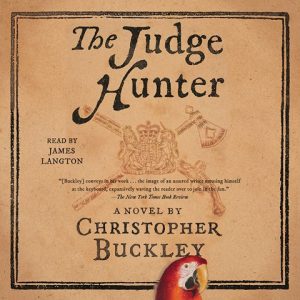 THE JUDGE HUNTER
by Christopher Buckley, read by James Langton
Simon & Schuster Audio
AudioFile Earphones Award
Listening to James tell us about Christopher Buckley's latest audiobook makes me so curious to discover where Buckley will take us next. Landing us in the New World in the 1660s, James must take on a humorous and insightful historical novel with English, American, Dutch, and French accents. It's a fascinating romp through some little-known early American history. Listen to a sound clip and read AudioFile's full review.
To explore more of James' audiobooks, check through his audiography that includes Christopher Buckley's previous THE RELIC MASTER, mysteries from Peter Robinson (SLEEPING IN THE GROUND), and Charles Lennox (THE WOMAN IN THE WATER), some lush historical romances (NO OTHER DUKE WILL DO), and an array of nonfiction.