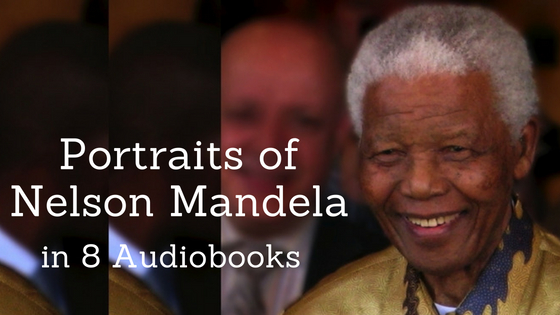 This week marks the centenary of the birth of Nelson Mandela. With celebrations and tributes happening around the world, I wanted to share 8 audiobooks that offer unique portraits of the South African leader. In the audio medium we can not only hear Mandela's voice in speeches and interviews, but also experience his memoirs and other writing.
In the engaging new audiobook GOING TO THE MOUNTAIN, Mandela's grandson, Ndaba, shares his "Life Lessons from My Grandfather." Ndaba presents the introduction, and then narrator Michael Boatman takes over. With keen professional skill, Boatman brings listeners intimately to the memoir. For listeners, this casting is serendipitous, since Boatman narrated Mandela's autobiography, LONG WALK TO FREEDOM, in 1995.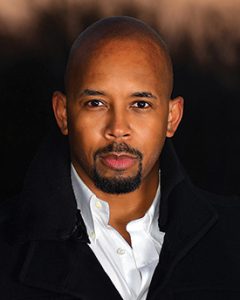 In a comment for AudioFile, Michael Boatman said, "I jumped at the chance to narrate GOING TO THE MOUNTAIN, because I was eager to learn about Mandela in the years following the events told in LONG WALK TO FREEDOM. But narrating that story from the viewpoint of his grandson was a revelation. Amidst the trappings of fame, power, and controversy, GOING TO THE MOUNTAIN is ultimately a story about family and the undying love between a boy and his grandad. It was a beautiful and deeply moving experience."
Another audio portrait, MANDELA: An Audio History, created by Joe Richman and Radio Diaries, received the coveted Audiobook of the Year Award in 2015. The archival sound clips and historical context are essential listening. CONVERSATIONS WITH MYSELF includes speeches and letters, some in preparation for the unfinished second volume of Mandela's memoirs, DARE NOT LINGER, published after Mandela's death in 2013. A new collection, THE PRISON LETTERS OF NELSON MANDELA, edited by Sahm Venter and read by Atandwa Kani, has just been published.

Kadir Nelson's audiobook NELSON MANDELA, read by Forest Whitaker, gives us a chance to introduce or amplify Mandela's importance with young listeners. Pair it with Nelson's stunning picture book, which was the recipient of the ALA's Coretta Scott King Award. Finally, NELSON MANDELA'S FAVORITE AFRICAN FOLKTALES is a unique audio program that is a special favorite of the AudioFile editors. The anthology, published in 2009, features an impressive cast of luminaries: Gillian Anderson, Benjamin Bratt, LeVar Burton, Ricardo Chavira, Don Cheadle, Matt Damon, Whoopi Goldberg, Sean Hayes, Hugh Jackman, Samuel L. Jackson, LaTanya Richardson Jackson, Scarlett Johansson, Debra Messing, Helen Mirren, Parminder Nagra, Sophie Okonedo, CCH Pounder, Alan Rickman, Jurnee Smollett, Charlize Theron, Blair Underwood, Forest Whitaker, and Alfre Woodard. Each story is now available as a single download, or you can enjoy the whole collection—that will also be published on vinyl in September.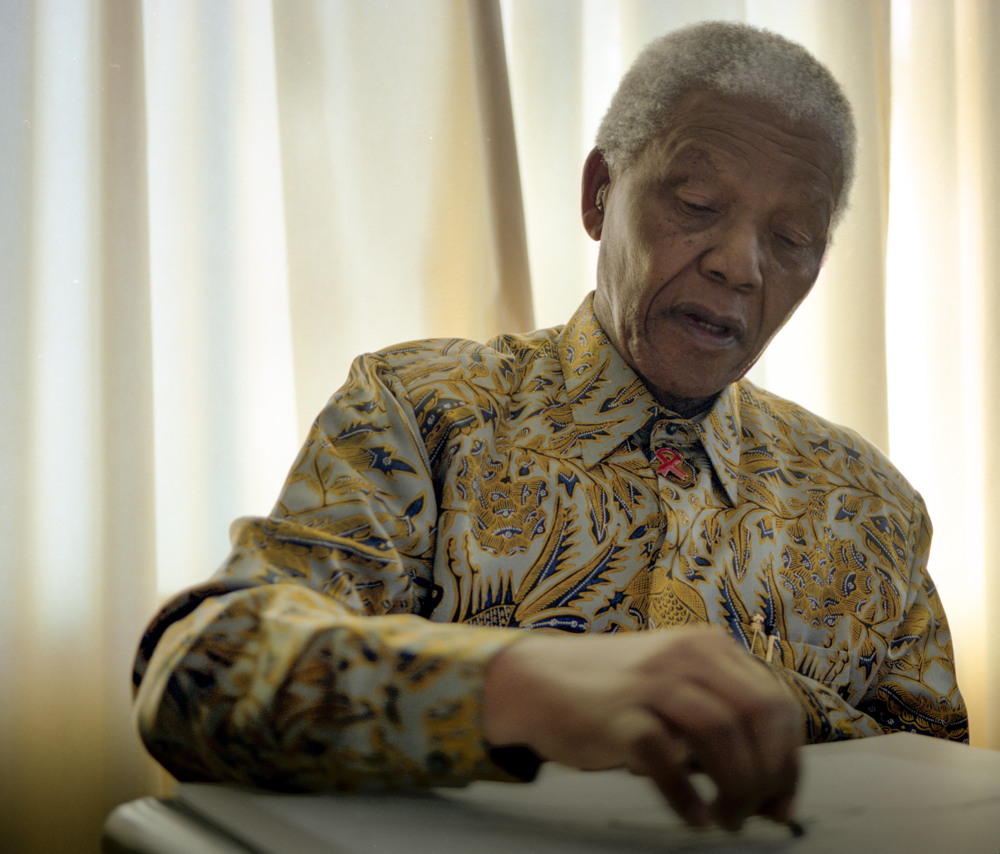 As I was collecting these audiobooks, I found an inspiring project celebrating Nelson Mandela's drawings from WeTransfer and House of Mandela Art. Don't miss this bonus experience—plug in your earphones and listen to one of the Mandela portraits while you explore this media-rich website about the exhibit. I love this quote about the project:
"It will remind people it doesn't matter where you come from, you can break the glass ceiling if you want to."—Nelson Mandela's daughter, Makaziwe Mandela-Amuah
Top photo: Nelson Mandela in Johannesburg, from The Good News, 13 May 2008