Due to the continuing pandemic, the 27th annual Audio Publishers Association's Audie Awards were presented via livestream on March 4, 2022, and are available to replay at your convenience. Whether you watch from home in your pajamas or in moderately uncomfortable formalwear in New York City, there's a sense of anticipation in the weeks between the announcement of each categories' finalists and the Audie Awards ceremony.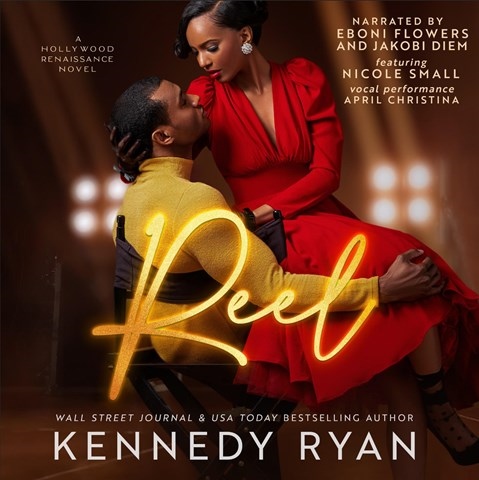 The Romance Audie Award, first given in 2005, recognizes the winning romance audiobook's distinction in narration, production, and content. Combine superlative narration with crisp and detail-oriented production and a story listeners will fall in love with, and you have this year's winner. Without further ado, it's thrilling to feature this year's winner, REEL by Kennedy Ryan, read by Eboni Flowers, Jakobi Diem, and Nicole Small with vocal performance by April Christina.
We're so proud to recognize REEL—not only is it the winner of the 2022 Audie Award for Romance, it is also one of AudioFile Magazine's Best Audiobooks of 2021 and an Earphones Award winner. All these honors? For good reason. Eboni Flowers's performance as actor Neevah Saint is perfectly in tune with Neevah's struggles to balance her professional success and private health problems. Flowers's Broadway background gives her a fluid confidence that carries the story. Narrator Jakobi Diem, as Canon Holt, producer of a biopic about a Black singer from the 1940s, adds a thoughtful, sensitive element to Holt's deep, commanding presence. Nicole Small narrates the screenplay excerpts, providing an electric counterpoint to Flowers's smoother voice. Each of the narrators has committed to an authentic emotional experience that places Neevah and Canon's romance in the larger context of their work and ambitions.
Read AudioFile's interview with REEL's author, Kennedy Ryan, to discover more about her work and the thought that goes into her audiobook productions.
Dive into AudioFile's coverage of the Romance finalists and the full list of 2022 Audie Award winners and finalists.
Want more? Check out the 2021 Audie Award nominees and winner for Romance. And we'll have more romance audio recommendations coming your way soon.