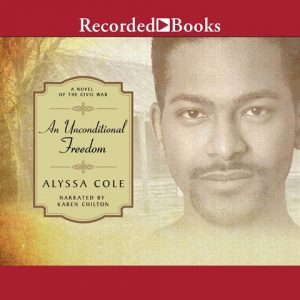 Rescue (verb): To free from confinement, danger, or evil (Merriam Webster). Some of my favorite romances ever involve a good old-fashioned rescue, and these days I'm an equal opportunity rescue junkie, savoring moments of deus ex machina involving characters of any gender. So here are five recent romances featuring memorable chases, escapes, and even verbal disentanglements for your listening pleasure.
Karen Chilton will knock you on your heels with her reading of Alyssa Cole's Civil War adventures in AN UNCONDITIONAL FREEDOM. In this third installment of her spy series The Loyal League, Cole explores the psychology of slavery and the bravery of Northern spies through the intrepid adventures of Daniel Cumberland and Janeta Sanchez, agents on opposite sides of the war. Chilton's narration maneuvers through Daniel's anger and despair as well as Janeta's increasing doubts about her loyalties. And she handles southern accents and Spanish phrases with ease. 
Another of my favorites is THE WOMAN LEFT BEHIND by Linda Howard, read by Saskia Maarleveld, where the female protagonist has to rescue herself or die. And Stephenie Meyer's THE CHEMIST, narrated by Ellen Archer, has some of the most tense escape scenes I've ever heard.
In ONCE UPON A PRINCESS, narrator Fleur Strange has to engineer a royal escape when Princess Olivia falls for café owner Rosie. This title was cowritten by Harper Bliss and Clare Lydon, and the narration is as appealing as the royal-romance premise. Strange juggles various British dialects in conversation and makes sure both heroines stand out in the audio format, not to mention creating voices for numerous memorable secondary characters.  
Fin Borders puts everything on the line to clear her foster mother of a murder charge in DECEPTION by Selena Montgomery (a.k.a. Stacey Abrams), read by Simone Daye. And then she ends up falling for the FBI agent on the case. Daye's pacing adds to the romantic suspense, and she brings the Georgia cast of characters to life. 
Love your heart-pounding listening!—Caitlin