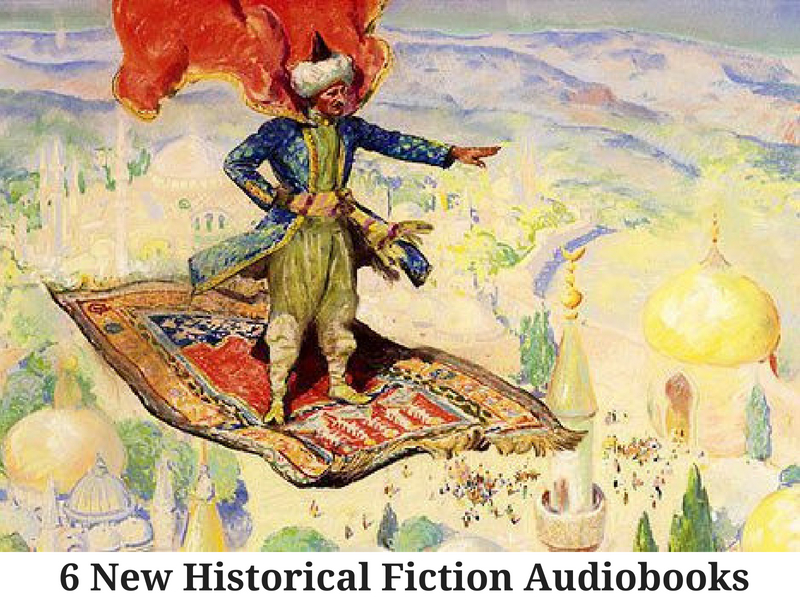 Something I love about audiobooks set outside our current time and place is that the historical details make the listening experience so rich. We get a sense of the history of  the time—1920s Bombay, the Soviet Union in 1958, colonial America—but also details of customs, costume, and conventions. Wrapping these in the storytelling medium of audiobooks is the perfect way to transport the listener. I'm reminded of a vivid passage in THE WATER DIVINER, the brilliant Australian audiobook about a father and his sons who are lost at Gallipoli in 1915. The father transports the boys with stories of the magic carpet of THE ARABIAN NIGHTS. Narrator Jack Thompson took me aboard as well, and I've always liked the episode as a perfect example of what the best historical fiction audiobooks can do.
Great new historical audiobooks are ready to take you away. What about visiting Egypt? THE LAST WATCHMAN OF OLD CAIRO by Michael David Lukas features Edoardo Ballerini, one of the very best narrators who can transport us to a different world. In Lukas's story, it's ancient Egypt and Cairo of 1900.
Moving farther East, let's take the carpet to 1920s Calcutta and Bombay (Kolkata-2001, Mumbai-1995) with Sujata Massey's THE WIDOWS OF MALABAR HILL, the start of a mystery series featuring female lawyer Perveen Mistry. Soneela Nankani is our narrator guide, and she makes all the dialogue with Indian accents sound just right. Our carpet takes a sudden swerve to the Soviet Union with RED PLENTY, set in the age of Sputnik and the Cuban missile crisis. Francis Spufford has created a fascinating history, ably read by Roger Clark and nominated for an Audie Award this year.
Now, let's go several centuries back with another two audiobooks that truly take listeners to different world. Colonial America is the setting for MY DEAR HAMILTON, giving us Elizabeth Schuyler Hamilton's powerful and poignant story. Narrator Cassandra Campbell gives an excellent performance, smoothing out all the outdated cadences of speech for listeners. Another jump in time, and Christopher Buckley takes us to 1660s Puritan America and Samuel Pepys's England in THE JUDGE HUNTER. James Langton goes a terrific job with the many accents and lets listeners savor Buckley's historical romp.
Audiobooks just take us the most fascinating places, and oh, the people we meet!