Gather all the Rick Riordan and Percy Jackson fans as AudioFile goes Behind the Mic with narrator Robbie Daymond, who shares his insights on Riordan's latest, THE BURNING MAZE. The Trials of Apollo series is perfect for listening to on your summer family road trips, and Robbie narrates all three audiobooks!
"Rick Riordan books exist in this amazingly well-crafted, rich, beautiful universe."—Narrator Robbie Daymond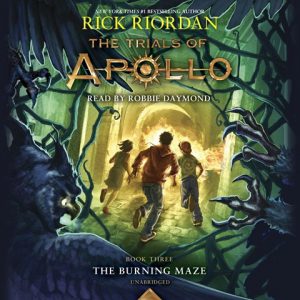 THE BURNING MAZE
by Rick Riordan, read by Robbie Daymond
Listening Library
If you've spent time in Percy Jackson's world of Olympian gods and demi-gods, the labyrinth of THE BATTLE OF THE LABYRINTH resurfaces here. Listeners have been eagerly awaiting more adventures in the Trials of Apollo series. In this third installment, narrator Robbie Daymond is wholly in sync with Apollo, and all the supporting gang of characters that fans will recognize. Listen to a sound clip and read AudioFile's full review.
Jump in with THE BURNING MAZE, or start with THE HIDDEN ORACLE.  If you want to fill your whole summer with great listening, start with Percy at #1, THE LIGHTNING THIEF. For more audiobooks with Robbie Daymond, check out his full audiography that includes two of our favorites, THE INEXPLICABLE LOGIC OF MY LIFE and Nicola Yoon's EVERYTHING, EVERYTHING.
Find more great family listening at our Kids and Teens page!