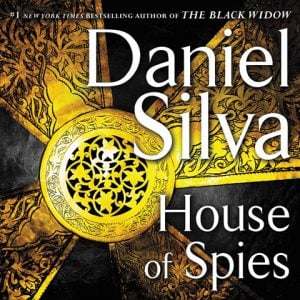 Listeners of mystery series often look forward to the annual event of a new title from their favorite authors. This week's new reviews will please a lot of listeners.
Daniel Silva is a writer I follow in both audio and print, but it's hard to beat George Guidall's performances of the escapades of master spy Gabriel Allon. HOUSE OF SPIES is the 17th in the series, and even with the recurring characters, I think a newcomer could drop in anywhere. If globe-trotting spies are not your cup of tea, consider Ann B. Ross's Miss Julia series. MISS JULIA WEATHERS THE STORM is #19 in a series "owned" by narrator Cynthia Darlow. I've not tried one myself, but I do love Cynthia Darlow.
Another tempting series is the Lady Hardcastle mysteries from T.E. Kinsey. DEATH AROUND THE BEND (#3) sounds like it might quell my sadness in saying goodbye to all the DOWNTON ABBEY folks, although these mysteries are set a decade or so earlier. A lady's maid and her mistress as sleuths sounds pretty grand.
My last suggestion this week isn't exactly a new installment in a series—but if you think "new" can also extend to a new narrator having a crack at a well-loved series, check out Stephen Fry's SHERLOCK HOLMES—and it's not just another performance of the many Holmes stories. Fry not only narrates each one, but interjects a short essay before each novella and the major collections of stories. Fascinating for fans, but also a perfect way to get a little context before leaping into 'the game."
Which series are you keeping an eye on for the next installment?