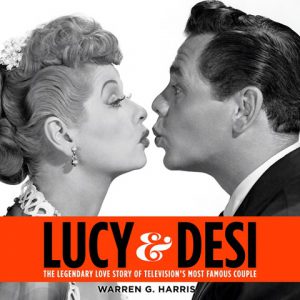 This week's audiobooks shine a light on an interesting mix of cultural icons—not exactly Beyoncé-type icons, but they reflect their own times nonetheless.
I love the prospect of LUCY AND DESI: The Legendary Love Story of Television's Most Famous Couple—Lucille Ball and Desi Arnaz. It's a wonderful throwback to 1950s television and will get you searching for "I Love Lucy " reruns. With all the interest in superheroes, what about Catwoman? Batman's enemy/love interest gets a "biography" chronicling her first appearance in 1940 through today in THE MANY LIVES OF CATWOMAN.
On a more serious historical note, WHEN THE WORLD STOPPED TO LISTEN caught my eye—first from the title, since I always like a title about listening, and then the subtitle, "Van Cliburn's Cold War Triumph and Its Aftermath," which got me watching the newsreel from the 1958 concert given by pianist Van Cliburn at the height of the Cold War. "History is made at the keyboard," the newscaster intones. Now I want to get the whole story.
The 100-year anniversary of the start of Russian Revolution was the catalyst for LENIN ON THE TRAIN. The sealed train that took Lenin from Zurich through Germany to Russia has always fascinated me. With this work, I can get all the details. And John F. Kennedy and Martin Luther King, Jr., have been the subject of plenty of titles, but Steven Levingston's KENNEDY AND KING: The President, The Pastor, and the Battle Over Civil Rights takes a look at their relationship in the early '60s and how the two men influenced each other.