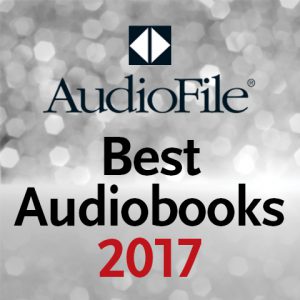 Today, we're launching our annual celebration of Best Audiobooks. Choosing among ALL of the audiobooks we've reviewed this year, we selected titles that have special resonance as audiobooks. You can explore our choices from the Best Audiobooks Ezine. I love this edition because we've added video and sound clips to help you find your next great audiobook.
Throughout the month here in my Roundup,  I'll be highlighting a few of our choices from each of the nine subject categories. It's quite hard to choose just a couple from the great titles in each genre—that's why you'll have to explore the whole list! I'll start with Fiction and Memoir—two categories that always get a lot of attention.
I'm rather partial to the historical fiction titles in this year's Fiction list. After watching a few seasons of "The Tudors," I can envision all the costumes that accompany Alison Weir's ANNE BOLEYN: A King's Obsession, and Rosalyn Landor has the perfect voice to immerse me. Moving into the late nineteeth century, I'm intrigued by Sarah Perry's THE ESSEX SERPENT. The lush descriptions and interesting characters are beautifully performed by Juanita McMahon. Both British narrators of these two audiobooks have the storyteller's ultimate gift—I will listen simply to hear where they take me next. Jen Tullock, narrator of ISADORA, gives a performance that reflects careful understanding of the famous American dancer's psychology—devilishly immersing.
For the memoirs, I'm picking three titles to add to my listening queue—that is, I have not listened yet, and I know what you know . . . a review, a sound clip, and the author's persona. How about John Hodgman's VACATIONLAND to start. After all I'm writing from "vacationland"—it's Maine's license plate motto. Hodgman seems to have appropriately splashed his comedy with a dose of our cold water. Astronaut Leland Melvin's memoir, CHASING SPACE, didn't initially grab me—though I do love the cover with his dogs! Our reviewer connects it with HIDDEN FIGURES, and that does pique my interest. The performance by narrator Ron Butler and the subtitle, An Astronaut's Story of Grit, Grace, and Second Chances, secures its place in my queue. I also want to add THEFT BY FINDING because David Sedaris has a special place among our years of "Best Audiobooks" lists. As an author reading his own work, he's unparalleled. Hearing him read his diaries—as here—or any of his essays is a listening treat.
Very hard to end without mentioning all the great titles in the Fiction & Memoir Best lists. You'll just have to check them out. And, share on your favorite social platform about your choices from AudioFile's 2017 Best Audiobooks.