This week I noticed an impressive crop of nonfiction audiobooks reviewed. Thoughtful and powerful audiobooks on immigration, politics, abuse, and race give us the chance to listen to important and varied perspectives. We often see some of these complex topics handled in both nonfiction and fiction. Listeners usually have a specific preference—a factual account, or the same topic with imagined historical or emotional detail.  Here are some thoughts on audiobook pairs from our recent reviews.
Russell Shorto's new history REVOLUTION SONG takes a look at the American Revolution through the stories of six people. I'll pair that with IT OCCURS TO ME THAT I AM AMERICA, a collection of short stories by Richard Russo, Joyce Carol Oates, Neil Gaiman, Lee Child, Mary Higgins Clark, and thirty other contemporary authors.
For another pair, I'll put HOW DEMOCRACIES DIE  by Harvard professors Steven Levitsky and Daniel Ziblatt alongside MUNICH, Robert Harris's novel of political history focusing on Neville Chamberlain's meeting with Adolf Hitler in 1938.
GREEN by Sam Graham-Felsen, is clearly inspired by the author's background, but is also the story of two teen boys seeing the racial landscape of the 1990s. A counterpoint might be  SO YOU WANT TO TALK ABOUT RACE by Ijeoma Oluo, with an Earphones Award-performance  by Bahni Turpin. Olou presents real-life examples to illustrate complex concepts.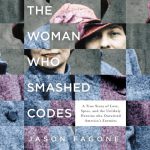 And one last pairing—and an easy one to make, since we have seen so many great (re)discovered histories of women's roles in science, like HIDDEN FIGURES and RISE OF THE ROCKET GIRLS, and now the new audiobook THE WOMAN WHO SMASHED CODES, which is reviewed this week. Let's pair that one with the young adult novel DARE MIGHTY THINGS by Heather Kaczynski.
Can you recommend some interesting duos from what you've been listening to?
Pairs: two identical, similar, or corresponding things that are matched for use together.