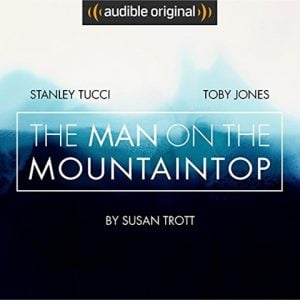 Looking at some of the new audiobook reviews this week, I see a theme of personal journeys—some fictional and some biographical. In an original audio adaptation, Susan Trott's THE HOLY MAN is transformed into a full cast performance as THE MAN ON THE MOUNTAINTOP. Headlining the cast of this pilgrims' tale are British actor Toby Jones and Stanley Tucci, who said the project "blends parable, myth, and morality with powerful and thought-provoking storytelling." 
At first, I confused Trott's mountaintop and THE MOUNTAINTOP, the play by Katori Hall about Martin Luther King, Jr. This L.A. Theatre Works production is also an excellent listening experience, and a spiritual journey.  A memoir of a slightly different type of journey, AN ODYSSEY: A Father, a Son, and an Epic by Daniel Mendelsohn, is also reviewed this week. Narrator Bronson Pinchot  receives an Earphones Award for this memoir. Listening to even the briefest of sound clips lets you hear Bronson's engaging style.
Another new review this week is a biography of HENRY DAVID THOREAU, whose spiritual journeys were integral to his work. Paul Boehmer adds some authentic vocal touches to the audiobook. I found that the duo of Thoreau's works, WALDEN AND CIVIL DISOBEDIENCE, seems particularly relevant and possibly inspiring at this time, and was recorded by Rupert Degas in a fine performance. Sixty years after WALDEN, naturalist John Muir wrote MY FIRST SUMMER IN THE SIERRA, also reviewed this week. Our reviewer notes that Muir's illustrations for the memoir should be explored, so I had to have a look. Here's one of Muir's pencil sketches included in his original journal. While we're on a naturalist bent, you might also want to explore the work of contemporary ecologist Chris Thomas in his audiobook, INHERITORS OF THE EARTH.
Reading this week about the devastation from mudslides in California sent me looking for the audiobook of John McPhee's THE CONTROL OF NATURE. Sadly, I found that a cassette edition from the 1990s is no longer available, and the work has not been re-recorded. The closest I could get was McPhee's original 1988 article in THE NEW YORKER, "Los Angeles Against the Mountains." Publishers, take a hint—McPhee's essays should be in the public eye (and ear) again today!