2018 has roared into Maine with frigid temps and plenty of snow. This is great curl-up-and-read/listen weather.
Just what Danish author Meik Wiking suggests in his popular THE LITTLE BOOK OF HYGGE. His new audiobook, THE LITTLE BOOK OF LYKKE, offers encouragement for a happier year, and life that includes getting to know your neighbors and volunteering. Another new audiobook that offers thoughts along the lines of "fresh starts" for the new year is Oprah Winfrey's audio collection THE WISDOM OF SUNDAYS: Life-Changing Insights from Super Soul Conversations. I wasn't initially sure about the title, but found that once I listened to the sample sound clip—that comes up with our review—I was eager to hear more. One activity I do in my neighborhood at the start of the new year reveals another meaning to Robin's Roundup. My husband and I "roundup" Christmas trees for our garden—limbed up, the boughs make a terrific mulch!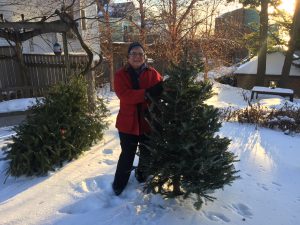 Another new audio that caught my eye is THE IMPROV: An Oral History of the Comedy Club that Revolutionized Stand-Up. Narrator Johnny Heller does a great job  delivering the humorous backstory with comments from the host of luminaries—Jay Leno, Bette Midler, Billy Crystal, et al.—without imitation.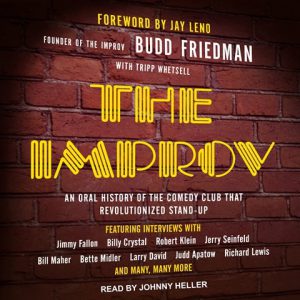 If you've been watching Amazon's "The Marvelous Mrs. Maisel," THE IMPROV definitely fills out the comedy club scene—though Maisel's scene is the 1950s, while The Improvisation coffee house was started in 1963. A side note, for Maisel fans . . . did you spot audiobook narrator Cynthia Darlow as Joel Maisel's secretary?  Always fun to see narrators we know! Check out Cynthia's page—you'll spot her or hear her voice in ongoing episodes.