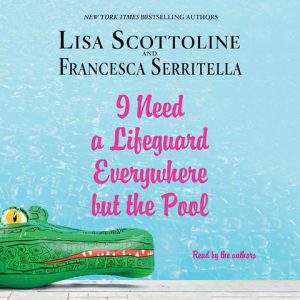 This week two new audiobooks that caught my eye, and ear, are filled with humor, warmth, and family dynamics. Mother and daughter author duo, Lisa Scottoline and Francesca Serritella, are pretty irresistible in their latest essay collection I NEED A LIFEGUARD EVERYWHERE BUT THE POOL. Smile from the title on in. Another writer who keeps me in stitches is Adrianna Trigiani. Her new audiobook KISS CARLO looks like a winner. With Edoardo Ballerini as the narrator, how could this sojourn with a postwar Italian-American family not be a delicious listen? (The story does include culinary specialties!)
When I talk about author-read memoirs, I always reserve the right to dispute whether the author IS actually the best narrator. In the case of John McEnroe's BUT SERIOUSLY it seems like this just had to be the author. McEnroe gives the full-on assault of voice and personality. It'll be love it or leave it, for sure.
The mash-up of MATCHUP sounds really intriguing to me. Lee Child edited a collection of short stories in which A-List thriller writers pair up their series' protagonists: Lee Child and Kathy Reichs match Jack Reacher and Temperance Brennan; Lisa Scottoline and Nelson DeMille pair their Benny Rosato and John Corey. Add in talented narrators and, what a gang!