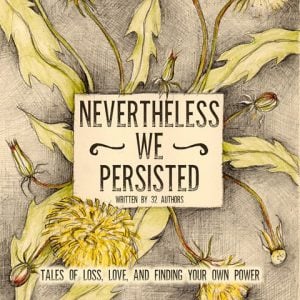 For a little listening to lift our spirits this week, I want to highlight this audio-first anthology of stories, poems, and essays, NEVERTHELESS WE PERSISTED, written and performed by an ensemble of authors and narrators. The collaboration between authors and narrators from around the globe resonates clearly in this labor of love and careful production. And for tiny feminists (ages 4-6) and their parents, remember to take a listen to Chelsea Clinton's SHE PERSISTED.
For a listening choice to galvanize resolve to speak up, Gretchen Carlson's BE FIERCE: Stop Harassment and Take Your Power Back is a timely choice this week. When Carlson walked away from her job as a news anchor for Fox News to fight—and win—her sexual harassment case, she discovered that her story is just one of many that deserves to be told. She suggests practical steps women can take to stand up for themselves.
Two great new young adult novels have been in the news. Fans of John Green (author of THE FAULT IN OUR STARS) have been anticipating his new audiobook, TURTLES ALL THE WAY DOWN; both are read by narrator Kate Rudd. Jason Reynolds's novel in verse, LONG WAY DOWN, "an ode to Put the Damn Guns Down," is read by the author with rich poignancy (and appeared on the 2017 National Book Awards longlist).
And for listeners who want to escape into some courtroom drama, we have two legal thrillers to share this week. John Grisham revisits the territory of his early bestseller, THE FIRM, in THE ROOSTER BAR. Narrator Ari Fliakos takes us through the proceedings. And in Robert K. Tanenbaum's new thriller, Peter Berkrot is in charge—WITHOUT FEAR OR FAVOR gets an Earphones Award for his efforts.