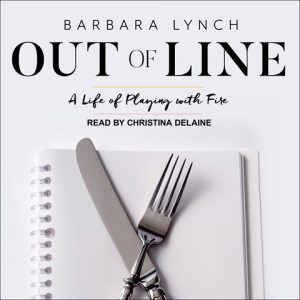 Chef and restauranteur Barbara Lynch's memoir OUT OF LINE: A Life of Playing With Fire may be just the ticket to inspire your holiday planning while hearing about Lynch's bootstrap rise to extraordinary success. Narrator Christina Delaine leads us through avowed risk-taker Lynch's memoir. I was intrigued by the New York Times interview with Lynch titled "After South Boston, a Restaurant Was Easy." That seems like a good way to approach holiday meal planning!
One of the audiobook publishing events I've most looked forward to this fall is Philip Pullman's new THE BOOK OF DUST: La Belle Sauvage. I've previously written about my affection for and admiration of Pullman's THE GOLDEN COMPASS—the full trilogy, released nearly 20 years ago. I had the great pleasure of talking with some of the audio producers involved in creating Pullman's terrific audiobooks, and I'll write more about this in a few weeks.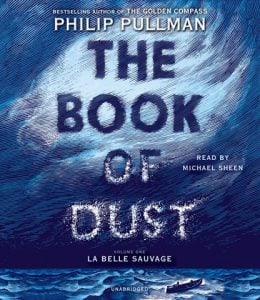 Some listeners, and super-fans, need no introduction and will plug right into an adventure that precedes Lyra's arrival in Oxford. It's truly wonderful to reconnect with characters from the earlier books, as well as fall in love with new ones. If you've heard the hubbub, just start with DUST, and you'll be immediately drawn in. Pullman is such a master storyteller, and narrator Michael Sheen delivers an amazing "full-cast" single voice performance. Enjoy the studio video of Sheen recording THE BOOK OF DUST.
From time to time narrators share wonderful stories with me about their experience narrating a certain book. Sometimes we capture that in our Behind the Mic video comments, and sometimes the stories come in a longer anecdotal form. Erin Bennett, narrator of KRISTIN LAVRANSDATTER, sent this along.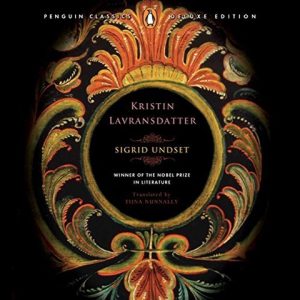 "The new translation of Sigrid Undset's 1922 masterpiece KRISTIN LAVRANSDATTER was awarded the Nobel Prize for Literature right after its publication. The new translation from the Norwegian by Tiina Nunnally recently won the PEN award, and I was cast to narrate the 45-hour-long trilogy.

Coincidentally, my husband had been teaching himself Norwegian (a completely random choice, as neither of us have Norwegian family) and connected me with his friend in Oslo, who helped me with the hundreds of Norwegian words for the audiobook. Every day as I worked in the studio and my husband spoke aloud Norwegian phrases (and played bad Norwegian pop songs on the iPod), I felt more and more compelled to travel to Norway.
This summer we traced the footsteps of Kristin, stood in stave churches built in the 1100s, and marveled at Viking ships, and my husband got to try out his conversational Norwegian (in a country where everyone speaks English!). After an all-day hike climbing a fjord, we stood looking down on the majestic Gjende river, and I realized that an audiobook had inspired us all the way to Norway. It was a beautiful moment."
And, a lovely story that makes me thankful for the incredible journeys we take with audiobooks.