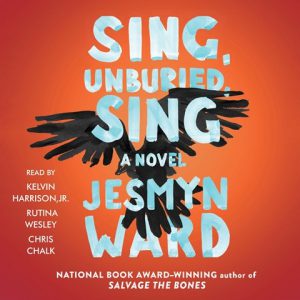 One of the great aspects of the National Book Awards is that they often highlight titles that may not be on your radar yet. And as listeners know, audiobooks can be a great way to increase your reading time and to tackle the problem of "so many books, so little time!" Among the finalist announcements this week, there are several audiobooks definitely worth taking the time to explore. We just reviewed SING, UNBURIED, SING with three narrators, Kelvin Harrison Jr., Rutina Wesley, and Chris Chalk, and picking up an Earphones Award. Two other finalists in the Fiction category, DARK AT THE CROSSING, with narrator Vikas Adam, and THE LEAVERS, narrated by Emily Woo Zeller, are also recommended.
The Young People's Literature category always has interesting titles, and I was pleased to see Ibi Zoboi's AMERICAN STREET, which has been in our sights—primarily for the inspiring narration by Robin Miles, who uses her facility with Caribbean dialects to make this particularly fine in the audio format. CLAYTON BYRD GOES UNDERGROUND by Rita Williams-Garcia, narrated by Adam Lazarre-White for middle-grade listeners (8+), also benefits from the musicality of voice.
As usual, the poetry finalists are absent from the audiobook lists, but Nonfiction is better represented with a powerful performance of KILLERS OF THE FLOWER MOON by David Grann. Again, three narrators share the performance—Will Patton, Ann Marie Lee, and Danny Campbell.
I'm always interested in who the judges are and was interested to see that at least three of the judges, authors Dave Eggers, Jacqueline Woodson, and Kekla Magoon, have all had their own work brilliantly presented as audiobooks. The National Book Award winners will be announced on November 15.