When I meet people for the first time and tell them about AudioFile, they often ask, "Do you listen to all the books yourself?" What a thought! I don't even want to calculate how many hours that might be—considering we clock in at almost 2,200 audiobook reviews published in 2017. The listening hours are spread among the ~85 AudioFile reviewers. Bless them all . . . for the many hours of work and listening pleasure, but also for the harder work of forming cogent, succinct reviews to enlighten all of us about each listening experience.
Our BEST Audiobooks project has been such fun this month. We are delighted by the support of our many partners who shared our 2017 BEST lists:
Shelf Addiction, No Shelf Required, Smart Bitches, Trashy Books, Brightly,  Fictionphile; Books & Sensibility; Citizen Reader, Listening Books,  File 770, Strand Magazine, RT Book Reviews, Beth Fish Reads, MG Doodle Studio, What a Griffin Reads and Watches, Omnivore Bibliosaur, Books & Lifelong Learning.
ALL the narrators! ALL the authors! ALL the audiobook publishers!
Many thanks to you all.
We know we have reached many more people with our end-of-the-year project. Our SoundCloud playlist has gotten 5x the plays of 2016. Readership of our media-rich EZine of the 2017 BEST Audiobooks has already had 200% growth! The recommendations are viewed throughout the year, so we are already starting from a high spot. We value our independence, and hope you do, too! Please remember to mention AudioFile as an audiobook resource to share with your audiobook listening friends.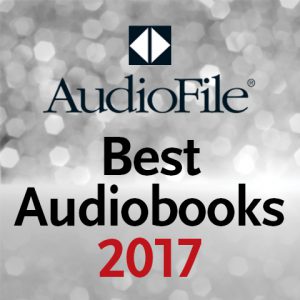 Whether you are reading reviews or taking recommendations from our website, the newsletters, or holding our print edition, we value your attention, and thank you all, our readers.
Best wishes for the New Year and all the amazing listening we'll find!