As we wrap up summer with a long weekend, the audiobook reviews this week put me in two minds. I want to extend my random "summer listening" choices just a little longer, but also know many of us have already turned to the more serious efforts of fall.
ARROWOOD, set in the London of Sherlock Holmes, looks like a great choice if you're on a mystery bent. We've been doing a lot of listening around the upcoming Sherlock Holmes anniversary in October. Arrowood is a scornful, anti-Holmes detective portrayed by Malk Williams. It gets an Earphones Award, so well worth attention.
An ensemble of popular young adult writers including Libba Bray and Tim Federle offer a collection to wrap up summer with some teen listening: SUMMER DAYS AND SUMMER NIGHTS. Six narrators share the varied stories. The notion of "coming-of-age" comes to mind as I thought about the stories and how the end of summer often marks this transition.
The cultural commentary of Ben Sasse's THE VANISHING AMERICAN ADULT has a lot to say about coming of age in 21st-century America. His friendly warning, as well as encouragement for parents, teachers, and officials, is worth checking out. Fiction is often the norm for listeners to explore coming-of-age stories, and I often think it's a welcome way to learn about the customs, culture, and expectations of others ages and times—think Jane Austen. In a dynamic new production, Emma Thompson leads a full cast to present NORTHANGER ABBEY. The Gothic satire of Austen's first novel makes good listening.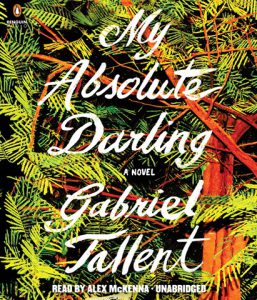 This week's current darling of the publishing world, MY ABSOLUTE DARLING, is getting reviews and comments from critics as a major debut. As an audiobook, Gabriel Tallent's debut is harrowing in a way that is different from the distress caused when we read text of graphic violence. Narrator Alex McKenna should be commended for her fortitude to perform the work and bring it vividly to listeners.
Can you think of other audiobooks that pack a punch that's different from the experience of reading the same text in print?