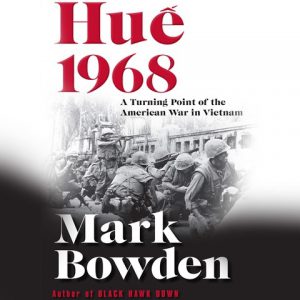 My choices from this week's new audiobook reviews seem to have a yin and yang approach. The dark and the light. We have history and biography that stare hard challenges straight in the face, like HUE 1968, Mark Bowden's extensively researched account of the Tet Offensive in Vietnam. I like reviewer Bob Grundfest's comment on narrator Joe Barrett: "He sounds like an old boot and offers no quarter when detailing the battle's ravages, both in terms of men and American strategy." If you are planning on watching Ken Burns's PBS documentary or listening to the audiobook edition, THE VIETNAM WAR, Bowden's work is an excellent companion. The biography of Israel's former prime minister, Shimon Peres, NO ROOM FOR SMALL DREAMS, covers important decades of Israeli history. Narrator Mark Bramhall clearly gets into the author's voice and brings listeners a direct and inspiring reflection. For another type of challenge, the biography of English cardiologist and surgeon Dr. Stephen Westaby looks at his career and many high-risk surgeries in OPEN HEART.
To counterbalance the nonfiction choices, what about a little fantasy? M.T. Anderson is a master of the invented world, and LANDSCAPE WITH INVISIBLE HAND is his newest young adult novel. Hearing about the aliens called "vuvv" may actually be easier than encountering the words repeatedly in the text—an unexpected bonus of audiobook listening. Anderson narrates the audiobook himself as he did with his celebrated SYMPHONY FOR THE CITY OF THE DEAD. While I'm on words that might be easier to hear rather than read, how about NYXIA, a sci-fi thriller by Scott Reintgen. The North Carolina teacher offers his novel for the "front-row sleepers and back-row dreamers of his classrooms." That should be enough to pique your interest, but narrator Sullivan Jones delivers with action and emotion for the teens in a competition aboard a spaceship.
Is your approach to listening this week dark, or bright?