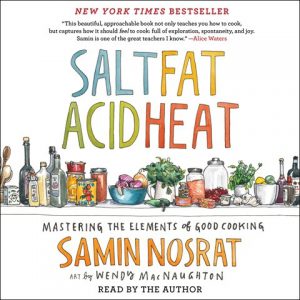 Chef memoirs and "foodie" books seem to come in waves . . . we're in the kitchen with Marcus Samuelsson or Ruth Reichl and then the cupboard is bare for months. Happily this week we have three terrific cuisine-related audiobooks. Alice Waters, visionary chef and owner of Berkeley, California's Chez Panisse invites listeners right to her table to hear her memoir COMING TO MY SENSES. She shares her passion for food, the story of finding her own voice as a chef, and a scattering of recipes. If you've checked out the beautifully illustrated cookbook SALT, FAT, ACID HEAT, it might be hard to imagine the audiobook edition. Yet author Samin Nosrat pulls it off, bringing this innovative cooking guide to listeners with engaging, conversational style . . . but you may still want to have the hardcover text on your shelf for the recipe details and techniques.
For a little armchair travel with culinary sauce, Ann Mah's novel KITCHEN CHINESE has the right ingredients. A young woman's travel to China to explore family roots and discover the delights of Chinese cuisine will have listeners heating up their woks. Narrator Emily Woo Zeller takes us there with an Earphones Award-winning narration that balances the subtleties of multiple accents.
Now that I've covered the micro environment, there are also two macro audiobook titles. Carl Sagan's classic COSMOS, written in 1980, has been recorded for the first time. LeVar Burton takes listeners through discussions of landmark scientific discoveries, human culture and history, life on Earth, and our connections with the universe. Neil deGrasse Tyson is also in the talented cast that enlightens us. As long as we're going big here, I want to point out A MIND AT PLAY, a biography of Claude Shannon. Shannon's name did not jump out to me, and the subtitle "How Claude Shannon Invented the Information Age" really made me more curious. For geeks, Shannon, an MIT mathematician, is surely an icon, but I was fascinated to learn more about his major breakthroughs and contributions to our understanding of modern technology. AudioFile reviewer Rich Stim knows his subject and offers a detailed review. This article in THE NEW YORKER may also get you primed for A MIND AT PLAY.