Narrator Kevin R. Free has convinced us to listen to ALL SYSTEMS RED by Martha Wells, a Nebula & Hugo Awards finalist told by "Murderbot," a depressed rogue security unit. Let's interface with Kevin for our latest Behind the Mic.
"It was really one of the coolest experiences of my career, narrating a coming-of-age story about someone who was not a person."—Narrator Kevin R. Free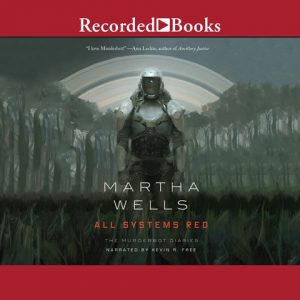 ALL SYSTEMS RED
by Martha Wells
read by Kevin R. Free
Recorded Books
AudioFile Earphones Award
A 2018 finalist for both the Science Fiction and Fantasy Writers of America's prestigious Nebula Award, and for a Hugo Award given by the World Science Fiction Society, this deep space adventure gives narrator Kevin R. Free such an interesting challenge. Kevin brings listeners right into this universe of classic sci-fi—the android's security mission, other robots, rogue technology. A new episode of The Murderbot Diaries—ARTIFICIAL CONDITION—was published this week, also narrated by Kevin. Listen to a sound clip and read AudioFile's full review of ALL SYSTEMS RED: The Murderbot Diaries, Book 1.
Explore more of Kevin R. Free's audiobooks in his audiography, where you'll find find fast-paced thrillers, biographies of James Brown and Muhammad Ali, and powerful young adult titles like SOLDIER BOY.